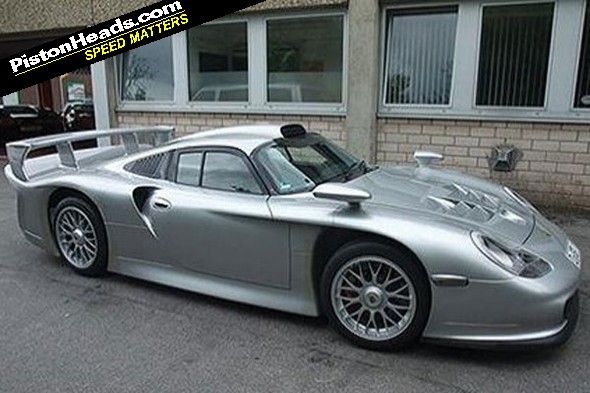 You only need the briefest of glances at
a 911 GT1 Strassenversion like this
to know that it's a whole heap of awesome - the scoops, slats, wings and general sleek racing car demeanour see to that.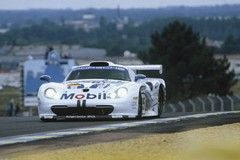 But it gets a whole lot cooler when you find out that, beneath that vaguely 911-esque bodywork, lies a rear end - and most importantly an engine - that derives from the legendary
Group C Porsche 962
. And you can't say that about a Corsa VXR...
The original 911 GT1 appeared in 1996, and GT racing rules (and Le Mans regs) merely stipulated that a single roadgoing car be created. For 1997, however, the FIA GT World Championship required a minimum of 25 examples (including race cars) to be built. Hence the Strassenversion of the 1997 GT1, complete with then brand-new 'fried egg' 996 headlamps.
The car for sale here is purported to be the very last of the road car production run, which we assume is why it says it's a 1998 car (the 1998 GT1 that actually won Le Mans was a very different machine from the 1997 car, with extensively modified bodywork and a new sequential gearbox).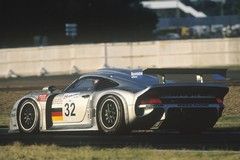 As is so often the case with extreme homologation specials, it's done a barely-used 4,900km in its life, probably due to the fact it's just so darn impractical. Because, you see, this is not an everyday car. The windows barely open, the steering lock is suited more for circuit work than the supermarket car park (likewise the ground clearance), the turbo lag is reputed to be frankly hilarious, and it's probably more accurate to talk about 'vision' spots as opposed to 'blind' spots.
And that's the thing: if you're going to go to the trouble of getting something like this, why not go the whole hog and get a full-on racing car - something like this rather natty 936-based Porsche-Kremer CK5 Group C car?
On the other hand, if you are a card-carrying Porsche fanboy, and you simply must have it in your collection, we definitely see the appeal... even at $2,325,000 (£1.5m)...

---
PORSCHE 911 GT1 STRASSENVERSION
Engine: 3,163cc flat 6-cyl twin-turbo
Transmission: 6-speed manual, rear-wheel drive
Power (hp): 544@7,200rpm
Torque (lb ft): 443lb ft@4,250rpm
MPG: N/A
CO2: N/A
First registered: 1998
Recorded mileage: 4,900km
Price new: c. £550K
Yours for: £1,500,000