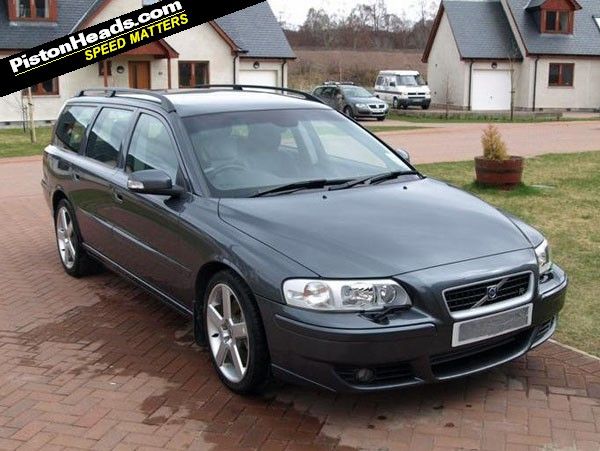 Those of us old enough to remember the early 90s (yes, time really has marched on so far that we're talking about the early 90s in those terms) will remember the day Volvo estates became cool. It was the day you first clapped eyes on Volvo's first BTCC entrant – an 850 estate.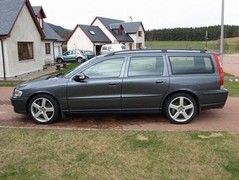 V70 R hides its lamp under a bushel well
It didn't matter that the 850 wasn't actually a great touring car (drivers Rickard Rydell and Jan Lammers came 14th and 15th in the 1994 drivers' championship respectively), and nor did it matter that, until then, Volvo estates had had the same appeal to car nuts as a wet dishcloth. Almost overnight, Volvo was cool.
'Ah,' said the Swedes, 'so this is how you do it.' They renamed the road-going version of the Turbo the T5, to make more noise about its five-cylinder, 20-valve engine, and in 1995, added a high-performance T5R variant. The rest, as they say, is history. The Volvo R badge was born, and it soon became a hit with people who wanted thumping turbocharged performance in a left-field package.
Fast-forward to 2003, and it has to be said that the R models' popularity was on the wane. With huge advances in power and dynamics being made by the German manufacturers, Volvo found itself a little left behind, and the Rs (if you'll pardon the way that sounds when spoken aloud) struggled to compete.  As a result, the second-gen V70 R faded into obscurity; not even a mid-life suspension revamp at the hands of chassis guru Richard Parry-Jones could rescue it.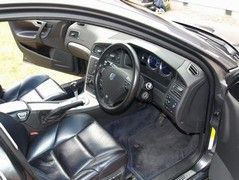 Admit it; you'd love to be this comfy right now.
The V70 R was flawed; even after the suspension revisions, and even with the Four-C (Continuously Controlled Chassis Concept) system set to Comfort, it still had an unsettled ride. In Sport or Advanced modes, it was positively uncomfortable. Which meant it didn't appeal to the core Volvo audience who wanted something big, comfortable and fast.
But live with the ride issues, and this generation of V70 R was a rewarding thing to own. It handled tidily after RPJ's chassis tweaks, and with the all-wheel-drive system, there was a vast amount of grip on hand. Coupled to 300hp from the turbocharged five-pot, the result was a deeply respectable 5.4-second 0-60 time, and an electronically-limited top speed of 155mph.
All of which makes this one, at £6,350, seem rather tempting. It's hard to imagine this much performance and grip being had for this little cash in a car this new elsewhere. And even though its cred isn't perhaps as high as the earlier V70 and 850 R models, it's still a handsome thing, with subtle cosmetics giving it a Q-car appeal. Throw in an extended Volvo warranty through until August, a full history and reasonable mileage (if a touch on the high side) and we reckon you're probably onto a winner. It might even rediscover some kudos as the Polestar Volvos gain more notoriety. Don't quote us, though.

---
VOLVO V70 R AWD
Engine: 2,521cc 5-cyl
Transmission: 6-speed manual
Power (hp): 295
Torque(lb ft): 295
MPG: 26mpg
CO2: 256g/km
First registered: 2006
Recorded mileage: 92,000
Price new: £38,133
Yours for: £6,350

---
See the original advert here