the death of the man who created it
, Carroll Shelby, just last week. Events to celebrate the Cobra's 50th birthday will be taking place throughout 2012, not least
at Goodwood later in the year
with a special all-Cobra race, and this will no doubt be a chance to pay respect to the man's cars in the appropriate manner.
link to the advert
for the Cobra you see here up on our Facebook page following the announcement of Shelby's passing on Friday and, off the back of that, decided it was worth a closer look. For sale at Ferrari specialists DK Engineering in Chorleywood, they're putting the car's value at around £1.5m. Which is a fairly staggering amount of money, it goes without saying. Now your jaw has had a chance to close again let's take a look at why this car might hope to command that kind of money...
Cobras are cool - we all know that - but come in all shapes, sizes and backgrounds. Browsing the PH classifieds you'll find all sorts of replicas and recreations of varying price and quality, fibreglass bodied ones like the Dax, South African built Superformance and Hawk (the latter bucking the 427esque trend and doing a nice 289 style body) popular while Kirkham Motorsports offers more authentic aluminium bodied cars. Or you can go for the German built AC MkVI, with various options of body including carbon and a starting price of just over £100K.
A mark II Cobra with the 289cu inch engine and competition (lighter gauge aluminium body, flared arches, cut-down doors and a custom aluminium tonneau and aero screen combo) spec, in the flesh the car has a more minimalist, stripped back feel - delicacy almost - compared with the brawnier-looking 427 most recreations are based on. Fully restored just a few years back and returned to its original creamy off-white, DK's photos show it with a Le Mans style hardtop in place but when we dropped by it was back in its roadster configuration with an open cockpit and roll hoop combo.
What's it like to drive? There's some serious eyelash fluttering going on (it's not a pretty sight...) in an effort to find out but the list of those who've had the pleasure at Goodwood and other events in recent years include Jack Sears (who drove it in period too), Richard Attwood, Jackie Oliver, Derek Bell and the late great Gerry Marshall.
Work does, however, apparently continue on a TV drama called The Drivers, inspired by Shelby's life and, in particular, his experiences at Le Mans. Produced by Ridley and Tony Scott there's been little word on it since an early press release, reproduced below, from last year. We're assured that the project is still live though and if it brings cars like this, and the Ferrari 857S driven back in the day by Shelby that's also for sale at DK, into our living rooms then who's to argue.

---
AC COBRA 289
Price: £1.5m
Why you should: Wonderfully original racing Cobra with cast iron history
Why you shouldn't: Goodwood tickets may be pricey but they're not usually this pricey

---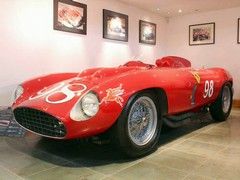 DK also has ex-Shelby Ferrari 857S

The Drivers press release (January 2011):
FremantleMedia Enterprises (FME), the commercial and brand extension arm of FremantleMedia, today announced that Scott Free Inc. has joined Headline Pictures, Sennet Entertainment and FME on The Drivers, a series based on the high-octane 24 hour motor race in Le Mans during the 1950s/1960s.

Ridley and Tony Scott will be co-producing the drama with Headline Pictures and Sennet Entertainment; FME is funding the project as part of their global drama strategy to develop and package drama series for the international market. The series is based on the book, Shelby: The Man, The Cars, the Legend written by Wallace A. Wyss and optioned from Iconografix. It tells the true story of wild young drivers from the US, Germany, France, Italy and Britain, friends and rivals, amateurs risking everything for a shot on the tracks.

Ridley Scott commented, "I grew up in the North of England at a time when Stirling Moss was a hero. Everyone wanted to be a racing driver. This is a hugely ambitious project and a once-in-a-lifetime opportunity to tell the story of these iconic and legendary men who risked everything to win at Le Mans. It's an epic story of courage and ambition and a history of racing which has never been told on such a grand scale."

David Ellender, Global CEO, FME added, "Having Ridley and Tony on board brings something really special to the project. They are indisputably two of the best filmmakers in the world today and their involvement raises the bar on this project to a much higher level of storytelling and production. Their vast international success combined with their British background puts them in a unique position to understand characters and stories from both sides of the Atlantic."

Both Headline Pictures and Sennet Entertainment are excited about the partnership with Scott Free and their respective heads Stewart Mackinnon and Mark Sennet commented, "To work with the Scotts on a series about their boyhood heroes at a time when Europe was just beginning to emerge from the devastation of WWII gives us a unique opportunity to make this a personal story as well as a world-class drama."