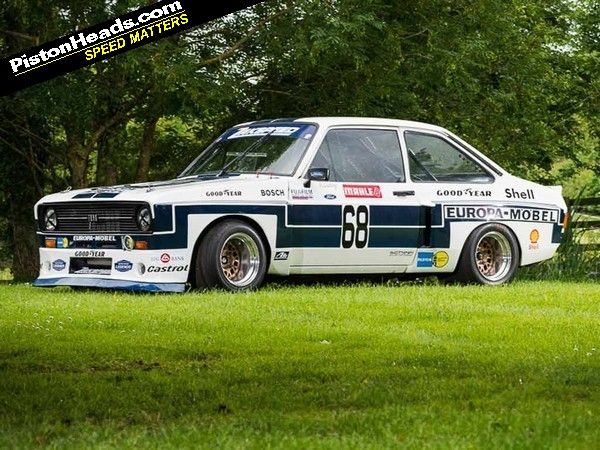 More often than not, a Time for Tea? has us coursing through the classifieds for a video-featured car.
BMW's 'Star'
short film caused some serious
E39 M5
want, and Caterham's recent
'ring video
made used
Sevens
look even more appealing. The same hasn't yet happened with
Vauxhall Calibras
yet though...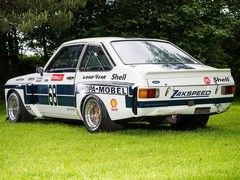 14-inch wide rear wheels need big arches!
So after Thursday's
classic touring car
video, the hunt was on for an historic tin-top racer. And boy did we find one; a Zakspeed Group 2 Escort.
Well, it's a sort of Zakspeed. This Escort was built on an original shell with chassis number ZAK068 but is a replica rather than a genuine racer of the 1970s. This may put some off, but this car has been successful in various historic championships and when genuine rally Escorts are £50K without an engine, it's perhaps less of an issue.
But then all rational justification disappears on looking at this. It sits on split rim Compomotive wheels, the rears 14 inches in both diameter and width (!) lending it a properly mean stance. The fronts are a mere 10 inches but, combined with some negative camber, further bolster the aggression. The box arches are predictably huge to accommodate such ridiculous wheels. The centre-exit exhaust is very cool too, and how is it that old race liveries just look better?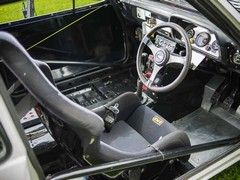 Nothing but the necessary in here...
This 1975 car has been prepared by Mark Wright Motorsport and comes with MSA and HTP papers. The dry-sumped 2.0-litre BDG makes 265hp with a whole host of race-spec components from the block to the exhaust. The Stack tacho reads to 10, so suffice to say it'll probably rev a bit...
So how much stands between you and being a classic touring car hero in this Group 2 Escort? It's difficult to say actually. This car went to Silverstone to be auctioned at the end of July with an estimate of between £75-£85,000 but didn't sell. We spoke to Silverstone Auctions, who have confirmed the car is now back with its owner, and are awaiting further details on its availability.
Until then, we can enjoy the pictures (there are more on the auction website) and hope it reappears on track imminently; it's not the real deal, but which grid wouldn't look better for its presence?

---
Ford Escort Zakspeed Group 2 replica
Why you should: It's a proven historic touring car winner, and looks outrageous.
Why you shouldn't: It will always be a replica, and wouldn't you rather rally an Escort?
See the original advert here