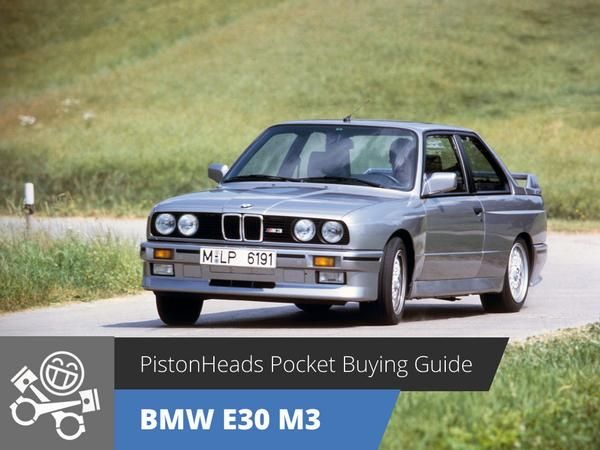 Designed originally as a Mercedes rival for Group A Touring car racing, BMW's left-hand drive E30 M3 is now one of the most sought-after modern classics. Put into road production for homologation purposes, the M3 was powered by a 2.3-litre, lightweight four-cylinder engine which was essentially a cut-down version of the BMW M1's straight six capable of revving to over 9000rpm.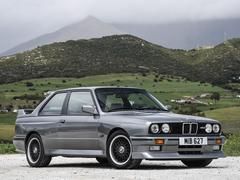 A Getrag five-speed dog-leg gearbox was standard, along with a heavily revised suspension (based around a MacPherson coil and strut front suspension and a rear semi-trailing arm set-up) a rear limited-slip diff and uprated brakes. The basic E30 body also received flared wheel arches, spoilers and a specially strengthened shell. The road car achieved a sub seven second 0-60mph time and touched 150mph flat out.
Launched in 1986 as a two-door coupe, initially with 200hp, close to 15,000 E30 M3s were eventually manufactured - making this model one of BMW's best selling cars. It also sold a limited number of convertible versions as the M3 evolved over the following years.
A limited-edition 1987 M3 Evolution model was built with changes to the front and rear spoilers to improve aerodynamics, and this was followed in 1988 by a stripped-out M3 Evolution II model with power increased to 220hp and further weight reduction, as well as further modifications to the aero package.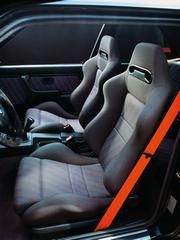 In 1989 and 1990 an M3 Sport Evolution continued the limited-edition theme, available in either black or red, with a bored and stroked 2.5-litre engine producing 240hp at 7,000rpm. Modified arches were fitted to allow for 18-inch racing wheels and BMW also produced the M3 Europameister limited edition to celebrate the M3's 1988 European Touring Car Championship win. These 150 cars were equipped with leather interiors and dash plaques signed by driver Roberto Ravaglia.
With high demand and low supply E30 M3 prices have been rising quickly over the last few years. But the car is very well made - it's rare to find engine wear problems even at well over 100,000 miles, on well-maintained examples. Little goes wrong with the suspension and brakes other than the usual wear and tear and the E30 M3 is relatively easy to keep in good health.
But there are still some poor examples out there - mostly with hidden rust problems - so make sure you buy a good car with a strong engine and a provenance that's as pristine as possible. And bear in mind that most M3s will have been through periods of track day use and occasional neglect.
---
Buyer's checklist
Bodywork and interior
Rust is the biggest potential issue with the E30 M3 - check everywhere including under covers, floors and box sections and around windows and engine mounts
Check the subframe for any signs of accident damage - many E30s have been taking on track -cracked fusebox covers are a giveaway
E30 Interiors are tough, but check that none of the trim clips are broken
Dash displays do fail but they can be rebuilt, suede steering wheels (if fitted) wear quickly
Engine and transmission
Look out for oil leaks from sump, gearbox and diff - can be worse on cars that aren't used regularly; check the engine oil level
Gearbox rebuilds are eventually required - is the transmission notchy or noisy?
Check that the valve clearances are correct; rough idling is often caused by split or perished rubber block intake gaskets
If a misbehaving radiator fan causes overheating the head gasket can blow - check that the temperature sensor is on the thermostat housing, not the radiator
The cam chain needs changing every 100,000 miles but is expensive to do - so some owners may put this off
A noisy differential will often only new bearings and oil seals to rectify
Suspension and steering
Rear shock mounts can fail
Subframe bushings eventually perish and need replacing
Steering pump failures have been reported
Worn tie-rod ends are often first noticeable as a judder under braking - sometimes mistaken for warped brake discs
Steering squeal may indicate a worn drive belt
Wheels, tyres and brakes
E30 wheels are often changed - the factory items need regular maintenance
Parking hand brakes have been known to fail - make sure it works properly
OE brake master cylinders and servos can leak
Many owners have upgraded the brake discs and pads - especially if the car is taken on track
BMW M3 (1988 EVOLUTION II)
Engine: 2,302cc 4cyl
Transmission: 5-speed manual, rear-wheel drive
Power (hp): 220@6,750rpm
Torque (lb ft): 181@4,750rpm
0-60mph: 6.4sec
Top speed: 149mph
MPG: 32.0 (NEDC combined)
CO2: 205g/km
Yours for: £29,995 to £69,995
Search for an BMW M3 (E30) in the PH classifieds