Never mind the history lessons and never-ending debate about missed opportunities in the British car industry, the Mazda MX-5 just got it right from the start. It had a clear field in 1989, other than some niche specialist offerings, but not even Mazda could have been prepared for the way the world took to its roadster. By end of first generation NA production in 1998, 421,107 of the little blighters had been built.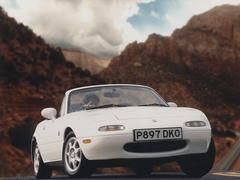 From the start, Mazda kept the MX-5 simple, aping the original Lotus Elan in ethos and style. It even has a central spine Power Frame that is a nod to the Elan's backbone chassis. More obvious influences from the British car are the pop-up headlights, unshrouded twin-cam engine and a simple plastic hood.
Further simplifying the MX-5 range was the choice of just one engine at launch, a peppy 1,598cc in-line four cylinder motor with 115hp on tap. It was enough to see the MX-5 from 0-62mph in 8.7 seconds, though it felt much zippier as you worked through the snickety precision of the five-speed manual gearbox. There was an auto option offered later on, but few enthusiasts will want this.
In 1993, a 1,839cc engine with 131hp replaced the 1.6. It was a shade faster, with 0-62mph in 8.5 seconds, but some reckoned it didn't rev as sweetly. However, more torque was delivered at lower revs to make it a more rounded daily driver and the brilliantly balanced ride, handling and steering were unaffected.
Mazda reintroduced a 1.6 model alongside the 1.8 in 1995, but it had been emasculated down to 90hp and 0-62mph now took 10.6 seconds. If you're not bothered about pace, this is the model to choose as it's generally shunned by MX-5 fans.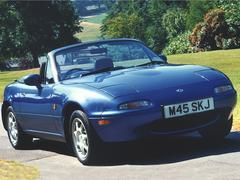 There wasn't much else in the way of choice when buying an MX-5 NA. UK buyers could pick from red, blue, white and silver to begin with. However, various special edition models broadened this pallette. Also, the huge number of Eunos imports from Japan provided more colours and creature comforts, including air conditioning and power steering as standard. They also have a limited-slip differential where UK cars did not. There's now no difference in prices between UK MX-5s and imported Eunos models unless you are talking about the most perfectly preserved early MX-5s.
Spotting a UK car is easy as it has a rectangular rear number plate surround, where imported cars have a square surround. With the Japanese models, you can also find desirable S- and V-spec models that offer uprated suspension, strut braces, lightened flywheels and different axle ratios for improved performance.
Given the age of the MX-5 NA now, it's best to buy on condition, particularly as sorting more serious corrosion will exceed the value of the finished car in most cases. Find a good one and you will enjoy the best sports car bargain out there.
---
Bodywork and interior
Rust takes hold from the inside and works out, especially on the back edge of the sills and rear wings; blocked hood drain holes let water collect and cause unseen corrosion
Boot lids also corrode on their lower edges; the battery is in the boot and can dent the right-hand wing from the inside if not properly secured
Damp in the cabin signifies a leaky roof; the hood lasts for three to five years, so best to budget £250 for a new one; DIY fitting is relatively simple
Check all four wheelarches for rust spots and look all around the windscreen frame too
Misaligned headlights point to crash damage or someone leaning on the light pod
Engine and transmission
Oil leaks from the cam cover gasket and cam-angle sensor's O-ring; don't panic, these are easy items to replace and the engine is tough so long as it has oil in it.
Hydraulic tappet rattle is likely on the 1.8 but should recede quickly after the engine has been started
Cambelt service comes every 50,000 miles and should be carried out in conjunction with a new water pump; expect to pay an independent around £250 for all of this work
Advancing the timing to 14 degrees, or even more, is a common modification to improve responsiveness; not a problem with premium fuel
BBR offered a turbo conversion when the MX-5 was new and had a Mazda warranty; DIY turbo and supercharger conversions are common, but check the quality of work carefully
Clutches are tough, but slave cylinder often fails- it's a cheap, easy repair
Early 'short nose' crankshaft engine's pulley can work loose if cambelt has not been correctly fitted and it can wreck the engine
Suspension and steering
Wishbones at the front corrode, so have a look under the car, and check the condition of the front crossmember while there
Suspension is adjustable for camber, toe and castor - if the car isn't driving straight, a suspension set-up by an expert will transform the car
Bushes in the suspension can fail if larger wheels have been fitted but wishbone pivot bolts have not been adjusted to suit
Non-power steering cars are not quite as agile as those with PAS
Wheels, tyres and brakes
Avoid fitting aftermarket wheels larger than 15-inches as they ruin the ride and handling balance and put undue strain on the hubs
Handbrake calipers on rear axle seize up; replacement calipers are cheap and easy to fit
Better braking for track days is easy with a set of uprated pads
Premium tyres are a sign of a caring owner and greatly improve the handling
Mazda MX-5 NA
Engine: 1,598cc 4-cyl/1,839cc 4-cyl
Transmission: 5-speed manual
Power (hp): 90@6,000rpm/115@6,500rpm/131hp@6,500rpm
Torque (lb ft): 97@4,000rpm/100@5,500rpm/110@5,000
MPG: 31.0/36.2/27.0*
CO2: N/A
Price new: £14,249*
Yours for: £1,000 upwards
*Figures for official UK