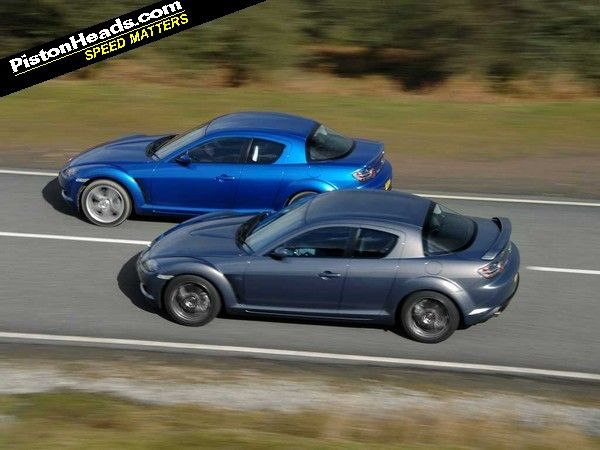 A four-seat coupe from the early part of the century with 231hp and a 0-62mph in the low six-second bracket: has to be a BMW 330Ci, right? Wrong. It's the
Mazda RX-8
, a car that is now so affordable it has to be tempting even for those who might otherwise be wary of its rotary engine and the reputation that has built up around it.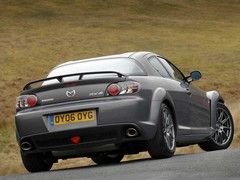 Cared-for RX-8s needn't be problematic
Much of the hype surrounding the RX-8's thirst for expensive oil is undeserved, though the twin-rotor engine does need more owner involvement than many modern sports cars. If you're prepared to make this very small sacrifice, the
RX-8
can deliver 0-62mph in 6.4 seconds for the 231hp model, or 7.2 seconds for the less potent 192hp version.
By seeking out a cared-for example that has enjoyed careful owners and has a fastidious service record, many RX-8 owners report much lower oil consumption than legend would have you believe. Mazda recommends checking the oil level after every second fill of the tank, which is sound advice. When new, Mazda reckoned the RX-8 would use around 250ml of oil per 1000 miles, but most cars will use less.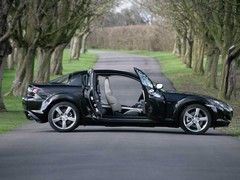 Four-seat configuration is a selling point
The other key selling point of the RX-8 was its four-seat cabin and the easy access to the rear seats thanks to the 'free style' suicide back doors. They hinge open in the opposite direction to the front pair, creating a pillarless opening to rear seats that can genuinely accommodate adults.
The RX-8 was launched in the UK in 2003, with Mazda pocketing 1,000 pre-arrival deposits, and the car continued through to 2010. It was offered with 192- and 231hp versions of the Renesis rotary engine, costing £20,000 and £22,000 respectively when new. By the time the R3 model was discontinued, Mazda had sold more than 17,000 RX-8s in the UK.
Find a well looked-after Mazda RX-8 and you will enjoy one of the best driving experiences for this class of car. Best of all, it need not break the bank as RX-8s are available from £2,000 in reasonable nick, all the way to £10,000 for late model 2010 R3s with low miles.

---
Owner's view:
"Owning the RX8 is a lot like marmite. Fortunately I like marmite! I went into the car very open minded knowing all the horror stories related to them. It has not been cheap so far but for a nearly 8 year old sports car what can you expect?"
Julien Bicknell

---
Buying guide contents:
Introduction
Powertrain
Rolling Chassis
Body
Interior
Search for Mazda RX-8s in the PH classifieds