When the Big Book of Hot Hatchery comes to be written, it may well record that Peugeot's finest example was not the sainted 205 GTI. Yes, it was the one that put the French firm on the performance map. But perhaps the best fast hatch it's made is the 306 GTI-6, and its lightweight Rallye derivative.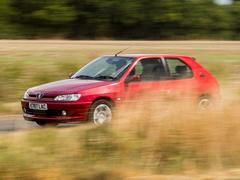 Introduced in 1996, power for the GTI-6 came from a naturally-aspirated 2.0-litre petrol motor producing 170hp at 6,500rpm. With 142lb ft at 5,500rpm, it dealt with 0-62mph in 7.8 seconds and headed on to 135mph. These figures seem moderate by today's standards, but the GTI-6 was about much more than just off-the-line speed.
What makes the car so special is the way it gets down the road. A kerb weight of 1,215kg for the GTI-6 makes it very light next to most current hot hatches and the Rallye version stripped a further 52kg from the bottom line thanks to ditching front fog lights, air-con, electric windows and the sunroof. The Rallye also had unique upholstery that was less weighty than the GTI-6's cloth and Alcantara mix, which was standard from early 1998.
Both versions shared the same six-speed manual gearbox, with long first and second gears that also means initial acceleration wasn't as vivid as you might think. However, on the move, the engine was praised in road tests for its eagerness to rev.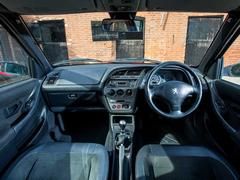 The handling and steering also came in for considerable plaudits as they allowed the Peugeot to shine on any sort of road. Supple on bumpy back roads, it turned in with plenty of feel at the wheel and offered ample grip. Like its predecessors from the same firm, the rear end would step out if provoked but it was also faithful for keen drivers who kept their right foot on the throttle.
A 1997 facelift saw new headlights, grille, bumpers, doors, instrument panel and side protection arrive, while another update was applied in mid-1999. These last Phase 3 cars have 'crystal' headlights, clear side repeater indicators, round foglights, silver dash trim and an aluminium gear knob.
In total, around 4,500 GTI-6 of all types and 500 Rallyes were sold in the UK. Many of those have now disappeared from our roads, making this superlative hot hatch one to look out for and cherish when you find a good, original example. Prices are unpredictable at the moment, with running cars with MoT from £1,000. Immaculate, low mileage models like the one supplied for our photos by Pemberton Cars are being advertised for up to £8,000, which might seem optimistic until you consider the way prices for 205 GTIs are going. As such the 306 GTI-6 and Rallye's time may yet be to come, so now is the time to bag a good 'un and here's how.

---
PHer's view:
"I've always wanted one since sitting in one at Earl's Court motor show as a teenager. I realised it was now or never as they appear to be a dying breed and prices are rock bottom."
Jon Tilbury

---