Replacing an icon is never an easy task for any car company and Subaru had the expectations of the whole world to deal with when it came to swapping the original Impreza Turbo 2000 for the new WRX model. The original had defined the performance car of the 1990s, won World Rally Championship titles and become synonymous with Colin McRae to the delight of fans and Subaru dealers.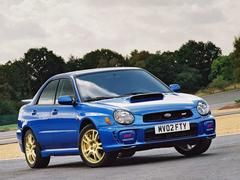 Bugeye look didn't win many friends
At the peak of its sales success, the first Impreza Turbo 2000 accounted for 35 per cent of all cars sold by Subaru in the UK. So, it was with a mixture of anticipation and horror when the first new second generation Impreza WRX was unveiled.
Yes, the four-wheel drive, 'Boxer' flat-four engine and boxy saloon shape were all still there, but so were a pair of googly 'Bugeye' headlights. If the original Impreza had been a slightly bland car made good with functional addenda for the performance versions, the Bugeye was just, well, a bit ugly.
Subaru cottoned on to this as fast as it could and a hasty restyle for the start of 2003 introduced a more normal headlight style that quickly became known as the Blobeye. More power also joined the fray at the same time for the standard WRX, going from 218hp to 225hp. The STI had 265hp until the 'Hawkeye' facelift of November 2005 raised that to 280hp, while a UK-only special edition RB320 came with 320hp.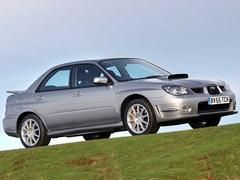 Third time lucky - the final 'Hawkeye' design
The final hurrah for the Impreza saloon and Sports Wagon estate was the GB270 that came with £7,600 of extra equipment, including the Prodrive Performance Pack that was always a popular option to upgrade power and performance of the standard WRX. Only 300 saloon and 100 Sports Wagon GB270s were made for the UK.
The GB270 remains one of the most expensive second generation Impreza WRX models, with prices for low mileage pampered versions as high as £23,000. At the other end of the scale, an early Bugeye WRX in standard trim starts at around £3,000 for reasonable condition cars, while an early STI costs from approximately £6000.
Second-gen Impreza at a glance:
2000-2002 WRX, 218hp (225 from 2003-on), 0-62mph 5.7 seconds, 140mph
2001 WRX UK300, 245hp, 0-62mph 5.5 seconds, 143mph
2002-2005 WRX STI Type UK, 265hp, 0-62mph 5.2 seconds, 152mph
2004 WR1 special edition, 325hp, 0-62mph 4.3 seconds, 155mph
2006 RB320, 320hp, 0-62mph in 4.8 seconds, 150mph
2006-2007 WRX, 230hp, 0-62mph 5.4 seconds, 140mph
2006-2007 WRX STI, 280hp, 0-62mph 5.0 seconds, 158mph
2007 GB270, 270hp, 0-62mph 5.2 seconds, 143mph

---
PHer's view:
"I'd recommend a 2.0L WRX wagon with the factory PPP kit. They are becoming hard to get a good one now, but well worth searching out."
Mark McDonald
---