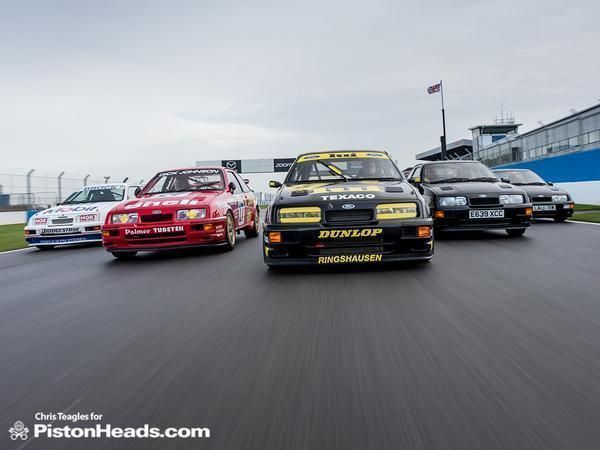 Out of season race tracks can be bleak; not least Donington's Tarmac Lake on a cold December morning. It'll be different at the Performance Car Show next week where the cars you see here will be pride of place in the warm and dry of the NEC. If you want to visit the show tickets are available
here
, but ahead of that I'm to be treated to a private viewing out in the wild.
2017 is the 30th birthday of the Ford Sierra RS500, and to celebrate the fact 14 iconic examples will be at the Performance Car Show in a special exhibition. Before that five of them are on their way to join myself and PH snapper Chris for an exclusive preview. Well, that's what we're hoping. And this child of the 80s is anxiously wondering if Santa really can come early.
"We're on our way. I have bacon. You won't miss us." Things are looking up. We hear cars. A diesel Mazda 6. Hmm. A Zipcar Ford Focus. Hmm. Then... A mint black Sierra RS Cosworth. An SUV pulling a race car trailer, white Sierra carrying '05' and 'Mobil' on glorious display. A couple more SUVs with closed trailers. Panic over, bleakness forgotten, the rs500owners.com forum has delivered and I honestly don't know where to begin.
And then another turns up. Good lord, it's only a Dick Johnson RS500! I had that giddy feeling of an 11-year-old at his first race car meet. A blast of December wind wakes me from my dream; time to get to work and follow the RS500 story car-by-car, as you'll be able to do yourself at the Performance Car Show next week. Let's start at the beginning...

---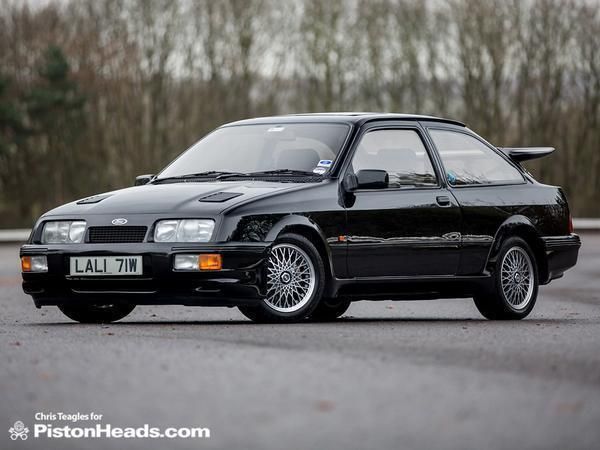 Ford Sierra RS Cosworth road car
Owner:
Gary and Billy Lali
Here's where it all started. Launched at the Geneva Motor Show in 1985, Ford built 5,548 Sierra RS Cosworths between 1986 and 1987, to go Group A racing. It's your archetypal homologation special. The project was initiated by the legendary Stuart Turner, by then Ford's motorsport director, who chanced upon a Cosworth development of the trusty Pinto engine that gave the iron block a new light-alloy twin-cam 16-valve head. Turner said stick a turbo on for at least 180hp in street and 300hp in race guise, and we'll place an order. Canny Cosworth agreed, but only if Ford promised to buy 15,000 of the new red-topped YBB motors...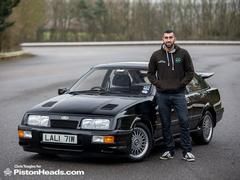 This one is an original and concours beauty. Owned by Billy Lali for a couple of decades, seeing it as it looked in the showroom reinforces what a monster it must have been alongside the period Fiestas and Orions. Son Gary has brought it to Donington for the day and fondly remembers the attention when out with his dad in it. "It's still fast now; it must've felt like a rocket in its day." He's giving it a last-minute detail, to get the black paint gleaming - Ford also sold it in white and Moonstone Blue, but other colours, as with options, were out to keep the showroom price as low as possible. It was still a hefty £15,950, or £42K in today's money.
Even the standard RS Cosworth has all the gear, including a viscous coupled limited-slip differential, Ford's own electronic ABS and a specially built Borg Warner five-speed gearbox. There were four-pot calipers at the front grabbing 11-inch ventilated discs, and beneath the widened wheelarches sat ATS 15x7-inch wheels running 205/50 VR15 tyres. Stiffer springs, uprated dampers and thicker anti-roll bars were backed up by Ford SVE detail tweaks such as solid plastic bushes for the front and rear links. Plus, of course, that wonderful bodykit, making the three-door bodyshell (stiffer and lighter than the five-door) look so delicious. The front air dam cut lift, the hole between the headlights fed the intercooler and, of course, that rear wing cured the Sierra's high-speed lift issues. But even as the first RS Cosworths hit the showrooms, Ford was already working on the next step...
---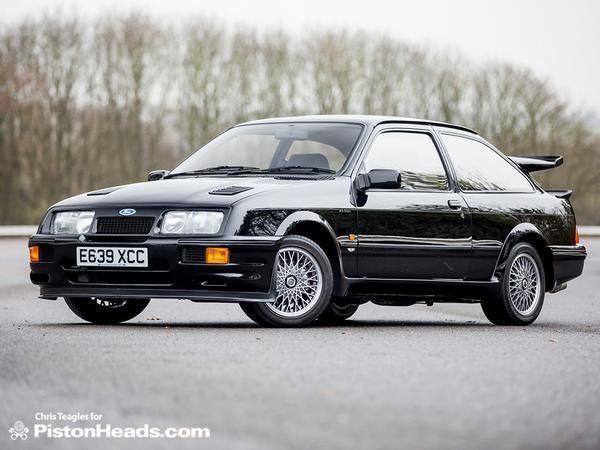 Ford Sierra RS500 road car
Owner:
Kevin and Nick Murby
If the RS Cosworth is a homologation car, the RS500 is an evolution special. Once Ford had built the requisite 5,000 RS Cosworths, Group A rules allowed an upgraded 'evolution' model to be launched. This could carry changes focused on improving its racing potential, provided Ford sold 10 per cent of the original number as road cars. Hence the 500. Kevin's car, brought to Donington by his son Nick, is a total jaw-dropper. It too does the concours circuit - Nick even showed me the original fog lights, which Ford supplied in boxes in the boot (you get extra concours points for having them, apparently). To think some of them were chopped up for racing! Ah, but of course they weren't. The RS500 was launched to homologate the changes, not for conversion itself.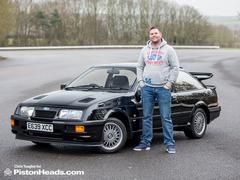 The RS500 road car owned by Kevin Murby is also black. So a group of us gathers to play spot the difference. Brake ducts instead of front fog lights? Check. The extra cooling duct below the grille? Check. There's a front splitter. Famously, a Gurney Flap on the 'whale tail' and an additional bootlid spoiler. Of course, the tape stripes on the side and, for the engine, eight injectors instead of four (disabled on the road car). Oh, and the larger Garrett T4 turbo. Then RS500 guru Paul Linfoot comes over to give his expert view. There's a bigger water pump, larger-capacity oil pump and intercooler - indeed, "virtually all the plumbing is unique". The engine has a thicker cylinder block (so the race cars could pump out more power), and pressurised oil cooling to each piston, for dealing with 224hp instead of 204hp (but 500-plus in racing guise). There are more heat shields. The battery tray is modified.
It's a completely new front bumper, too: "The giveaway is the number plate recess". Below the surface, racing teams could now alter the rear semi-trailing arm inner pivot point. All were right-hand drive, all had sunroofs and 'RS500' stickers on the back, 392 were black, 56 were white and 52 Moonstone. Another geeky fact: the electric aerial was programmed to retract when you opened the bootlid, to clear the wings. Oh, and despite costing £19,950 when announced in 1987, the interior is identical to the RS Cosworth. But RS500 owners could claim kudos from the conversion being done by Tickford in the UK, who ran through the many pages of changes made by Ford at a rate of 15 a day. And once they were approved, in August 1987, then the race teams could get to work. Cue Andy Rouse...
---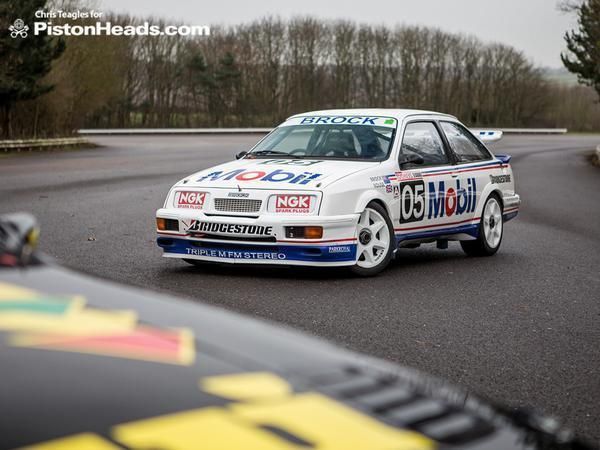 Andy Rouse Engineering Kaliber/Mobil 1 RS500
Owner:
Rupert Kent
If you watched BTCC in 1988, you'll be familiar with this car: it won nine of the 13 rounds that year and took driver Andy Rouse to the Group A championship. Don't recall it? Back then, it was the Kaliber car, the very same one that went up against Steve Soper's Texaco car during that famous
Brands Hatch battle
. It's now wearing Mobil 1 colours because in 1989 it went over to Australia, courtesy of Peter Brock. Amongst other things, he scored pole position in that year's Bathurst 1000, with
an amazing lap
that even today beggars belief. And who was he sharing the car with? Why, none other than Andy Rouse.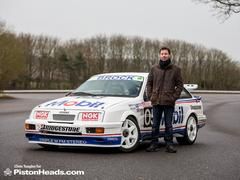 Andy Rouse Engineering actually built it, one of dozens the BTCC legend would turn out over the years (at one point, he was employing 30 people simply to cope with demand). So you could say it's a car with history - something owner Rupert Kent proudly runs through. This is a car he's been trying to buy for more than a decade, and realised his dream just six weeks prior to the shoot. "It still gives me goosebumps." As it does us while he points out the very few non-original parts: unlike many racing RS500s, this is a machine that's remarkably original in its innards and panelwork, even retaining Brock's famed '05' race number despite its years racing in classic Australian touring cars (before returning to the UK in 2005). There's a period RS Components digital unit inside. A complex ARE-designed roll cage. Rupert tightens the centre-lock wheels with a period wheel brace (actually a suspension upright, "one of the strongest things they made!").
It's such an evocative machine. Rouse was already a BTCC champion in the Sierra XR4Ti (actually an American Merkur XR4Ti) and used this experience to help hone the RS500. 1988 showed how successful that was: Jerry Mahoney may have taken the RS500's first BTCC win, but Rouse took this car to all but two of the remaining races that year - only being denied overall BTCC honours by the indecipherable multi-class rules being run at the time (he made do with the Group A championship instead, and 10 pole positions...). It's living history and it took all my effort not to continue my tour of every scuff and scrape and hearing the stories behind them. That's because the 'works' car was waiting...
---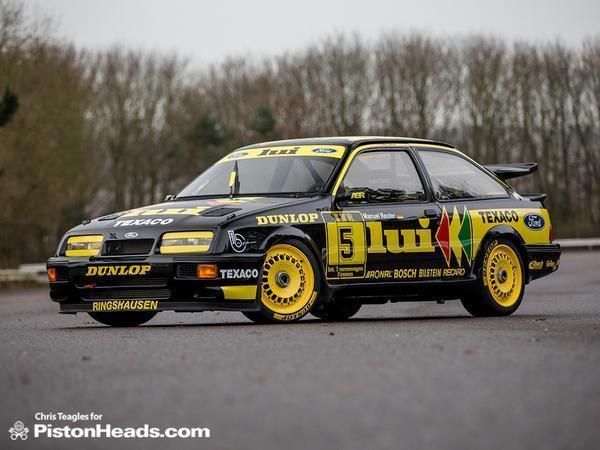 Eggenberger/Ringshausen Rennsport 'Lui' RS500
Owner:
Paul Linfoot
Paul Linfoot is Mr RS500 and his 1987 ex-Manuel Reuter DTM racer, fondly called 'Lui', is stunning. He added it to his collection a couple of years ago, and has since treated it to fresh paint and stickers plus refurbed wheels in the original yellow (the car also later ran in Texaco livery, Paul has discovered). The chassis is genuine Eggenberger fare (chassis number 99266), built by Ringshausen Rennsport for Manuel Reuter in late 1987. He drove it in the DTM and it was the first RS500 to race in the German touring car championship, scoring a podium at its debut Diepholzer Flugplatzrennen event. It raced again in 1989 but was then retired and became part of a private collection: it was recommissioned for the 2012 Silverstone Classic.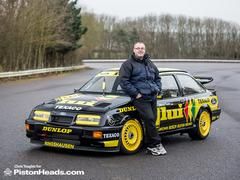 Eggenberger cars are special, of course. Reudi Eggenberger's Swiss racing team had done amazing things with turbo Volvo 240s and put this experience to making the 1986 Ford Sierra XR4Ti quick. It was Eggenberger that Ford officially teamed up with to help develop the RS Cosworth and, later, hone the changes that would create the RS500: the improved aerodynamics, bigger turbo, eight injectors and stronger block were the key building blocks here. The Rouse cars like Rupert's may have received semi-official support but Paul had been lusting after an official Eggenberger car for years.
Since buying it, he's also confirmed with Kai Ringshausen that it's the real deal, and even received Reuter's seal of approval. It's a divine machine, as spotless as the two black road cars, and yet another significant piece of RS500 history - remember, it was a sister Eggenberger-created car, Soper's Texaco-liveried machine, that capitalised on a free date in the European Touring Car Championship calendar to race against Rouse at Brands. It also proves that RS500 racers weren't converted RS500 road cars: it is, of course, left-hand drive...
---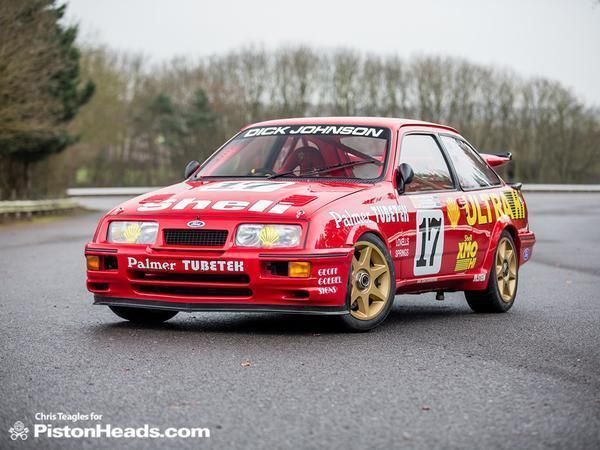 Dick Johnson Racing DJR1 RS500
Owner:
Andy Lloyd
It wasn't just Eggenberger and Rouse that built racing Sierra RS500s. The roll call of constructors includes Graham Goode Racing, Don Smith, Miedecke Motorsport, Wolf - and, of course, Australia's Dick Johnson Racing. Andy Lloyd, 1997 UK Ford Saloon Car Championship winner, bought the car he won his title in to Donington: DJR1, the first RS500
Dick Johnson
ever built.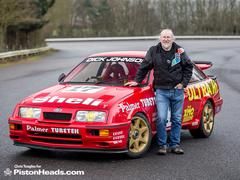 After building it, Dick raced it in 1987, scoring a win and a couple of podiums; team-mate John Bowe took over driving duties in 1988, taking it to second in the ATCC - behind Johnson. A highlight in 1988 was coming second at the Bathurst 1000, despite only being the third team car. Umpteen protests, initiated by Tom Walkinshaw, saw a chaotic build-up to the event, and several Sierras retired during the race, leaving this car as the sole survivor - "Johnson and Bowe pulled rank to take over driving duties with lead driver John Smith," says Lloyd. 1989 saw it arrive in Britain, driven by Robb Gravett, who won four times in it. He went on to become 1990 champion in another RS500, leaving Graham Hathaway to drive it to a sole podium in 1990 - before taking it to Malaysia for a few years, becoming 1992 Malaysian Touring Car Champion.
After a few years in Thundersaloons and UK Ford Saloon Cars, Andy bought the car and gave it another title win in 1997, rounding out the racing record of this multiple-winning racing RS500. It was actually the first Sierra to win in Australia, and has another claim to fame - it won the 1987 Australian GP support race, although sadly for Johnson, this was a non-championship race. Lloyd, who himself has raced in the Bathurst 1000 (he's done the N24 several times as well) visited Johnson a few years back, who remembered his first RS500 build well. No static museum piece, Lloyd still drives it hard today, and it too has seen action at the Silverstone Classic. On one track day, he popped it in the gravel, much to Linfoot's dismay. "It's a racing car, I told him. It's meant to be driven hard!"