Not one for the shy, retiring type
, this MX-5 might have you worrying about PistonHeads coming over all
. But, as many discerning PHers will doubtless know, there's more to this little Mazda than a lairy paint job and slightly dubious bodykit.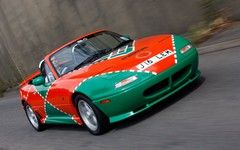 That colour scheme is paint, not vinyl
Built to celebrate the victory of the 787B at Le Mans back in 1991 - the first and only win for a Japanese manufacturer - the MX-5 Le Mans was a strictly limited run of cars built by Mazda UK. Very strictly, with just one car for each of the 24 hours raced by the 787B.
According to the MX-5 Owners Club, 22 were eventually built and 19 are known to survive, one of which is currently for sale in the PH classifieds. The car in our photos, meanwhile, is the star turn at Milcars Mazda in Watford, where its value as a promotional tool attracting MX-5 fans from far and wide hasn't been missed. Something of a cult car, 20 years on the MX-5 Le Mans 24 is now almost as much a curio as the 787B it celebrated.
Priced at £20,499, the Le Mans 24 was a substantial hike over the £15,581 of a standard 1.6 but, quoting contemporary marketing director David Palmer, "these particular cars have been designed specifically as collectors' items and reflect the livery of our successful Mazda 787B sports racing cars." Not everyone was such a fan though, at least five of them were resprayed back into single colours when the colour scheme proved a bit much for buyers.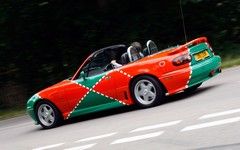 Finding a touch-up pen must be hard
Which is a shame, really. These days you'd just use a wrap, but on the Le Mans the livery was a proper paint job. Under the side skirts and team colours was a BBR turbo kit, Tokico springs and dampers, OZ wheels and a host of other detail trim upgrades. Each car also came with a black leather wallet for the documents and a handbook also containing a certificate of authenticity signed by 787B Le Mans driver Johnny Herbert.
The eye-catching livery is pretty cool in itself, but the BBR turbo kit adds a bit of substance to the style. These kits were a popular upgrade for MX-5s at the time, BBR designing the installation to be a straightforward dealer fit. Chatting with BBR's David Brodie he's clearly still proud of what they achieved.
"It's still the most successful aftermarket turbo kit ever," he boasts. "We sold over 1200 of them in the end, which surprised us as much as any because we were only expecting to sell a couple of hundred."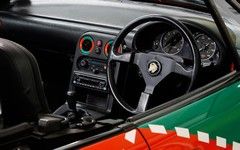 Mmmm... plasticky loveliness...
A low-pressure installation running just 5-6psi of boost, the BBR kit took the MX-5's 1.6-litre engine from 115bhp to around 150bhp, torque climbing from 100lb ft to a chunky 154lb ft. Top speed went from 121mph to 130mph and 0-60mph from 8.7sec to just 6.8.
As featured on PH previously, BBR's modern turbo upgrade for Mk1 MX-5s realises a much more substantial 221bhp but, as Brodie explains, they had to play it very conservatively. "I did get some people asking what we were thinking putting the intercooler behind the radiator," he says. "But we put it there for a reason - it's the cold water side of the radiator and I didn't want the dealers to have to modify bodywork to fit it. It had to go in like Lego." That's not to say there wasn't headroom for more power though.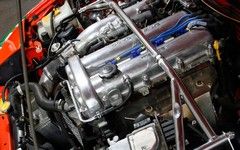 Turbo boosted power to 150bhp
"We did a number of level two kits at around 180 to 190bhp but we included an inhibitor on the ECU so if you tried to turn the boost up yourself it cut fuel to the injectors," he says. "We had a lot of failsafe as it was. We did have an early batch of exhaust manifolds crack but after that we didn't have any problems." Thank Brodie's eight-day marathon shakedown in the original test mule for that, his (attempted) destruction test involving endless high rev runs along the M4 in third or fourth gear followed by brutal redlining from cold and cross-country ragging in the Welsh mountains. Which sounds like an entertaining way to spend your time.
So how does it drive? Throttle response in this example isn't quite as razor-sharp as the regular normally aspirated car, but the fact it's got half as much torque again stands out, as does the sheer smoothness of the installation and the way it integrates with the regular set-up. If someone had told you this was a factory turbo engine you'd have no trouble believing them.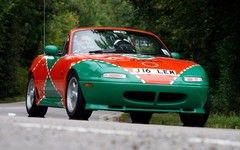 Tweaked suspension sharpened handling
150bhp isn't a huge amount by modern standards, but the MX-5 weighs less than 1000kg and the effortless mid-range rush means brisk progress without the usual need to wring it out to the redline. And all of this is underscored by various exotic whooshes and gurgles from under the bonnet.
Other than that it's very much regular Mk1 MX-5, which is to say a little juddery over the bumps, but terrific fun and with a welcome degree of extra urge over the non-turbo car.
Of course, this isn't a regular Mk1 MX-5 and any time you catch your reflection and/or reaction of other road users you realise why. You need a thick skin to drive a car this lairy, the former owner telling us she loved being centre of attention wherever she took it while bemoaning the fact its rarity and value meant she was unwilling to risk it on the track like the cars that went before and have come since.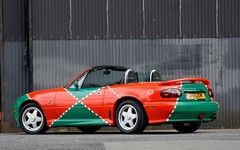 Two decades on, the significance of the 787B's triumph for Mazda is still fresh, the winning car being specially restored and shipped over from Japan earlier this year for demo runs at Le Mans and Goodwood. And the Le Mans 24 continues to realise its role of celebrating this victory. Sure, if you want a fast MX-5 there are cheaper and easier ways of doing it. And, exclusive or not, it's little more than a very elaborate special edition. Who cares though? The 787B was a glorious moment for Mazda and who can blame 'em for wanting to shout about it a bit.
With thanks to Phil Marks at Milcars Mazda, Doug Passell at www.MX5OC.co.uk, David Brodie and Sue Duncan