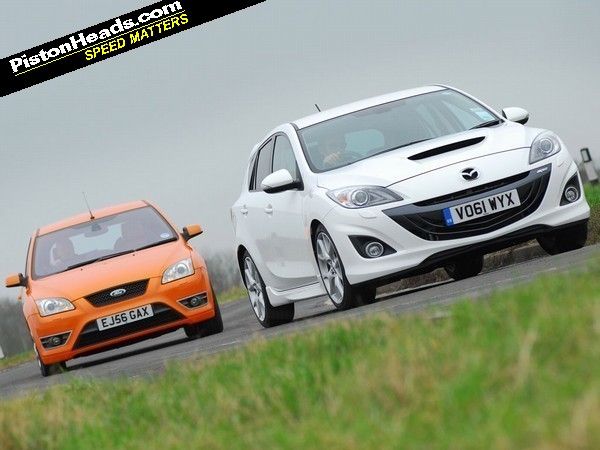 Making a hot hatch 'hot' used to be a pretty uncomplicated process - as anyone who has ever worked on an XR3i will tell you. Traditionally the transformation would require little more than a sprinkling of bodykit, a couple of engine tweaks, uprated brakes (if you were lucky) and, the finishing touch, some oversized alloys. Loud exhausts - equally essential - were often left to the owner to source.
Times have changed though and our level of expectation has grown massively. Fortunately so has the range of hot hatches on sale, with more manufacturers than ever offering their own individual take on the theme. So whether you prioritise a headline grabbing power output, a track-focused chassis, tons of gadgets and toys or a premium badge there's a hot hatch there to suit you.
Two of the finest exponents - Ford's soon-to-be-superceded Focus ST and Mazda's high tech 3 MPS certainly appear to cater for very different tastes, yet under the skin they're more closely related than you might think.
Family tree
Ford's 225hp Focus ST was the first to hit UK shores, with three specs - ST, ST2 and ST3 -available from October 2005. Competitively priced and amply equipped even 'base' £17,520 ST models boasted 18-inch alloys, a leather-clad steering wheel, a large rear spoiler, Recaro sports seats, a six-speed close-ratio 'box and a dash-mounted instrument pod showing boost pressure, oil and coolant temperature and oil pressure. ST2 models added handy Xenon headlights and ESP whilst ST3 owners could enjoy 10-way adjustable front seats and full leather trim.
Following in the footsteps of Ford's Escort XR3 and RS Turbo the ST wore its heart on its sleeve with lurid Electric Orange press cars grabbing the headlines and a woofling five-cylinder sound track luring buyers by the thousands. Referred to as a 'hero colour' by Ford, nearly a third of early ST sales were accounted for by the orange. Available as a three or five-door model the suspension, steering and braking systems were all developed specifically for the ST, and the 2008 'Kinetic Design' makeover coincided with an optional £1,120 Mountune Performance Pack which took power to 260hp and lifted torque from 236 to 295lb ft - without affecting your Ford warranty. In total Ford has sold over 20,000 STs - making it one of the UK's best-selling hot hatches.
The 2006 arrival of Mazda's 3 MPS in contrast was altogether more low-key. Despite claiming to be the most powerful front-drive hot hatch on the market at the time and having a mechanical limited-slip differential Mazda's first-generation 260hp 3 MPS found few fans - thanks in part to its dowdy looks. A cultural thing perhaps but the runaway success of Honda's Civic Type R showed that UK buyers expected tech to come with style too.
However, Mazda learned from its mistake, imbuing its second generation £21,500 2009 model with just as much go, but far more show. Performance was remarkably similar to Ford's Mountune ST and the chassis boasted a 41 per cent improvement in torsional stiffness compared to the first generation model. Other changes included pumped-up exterior styling with a large bonnet scoop and deep front spoiler, wider wheels, larger anti-roll bars, uprated brakes - making the 3 MPS far more hardcore. Yet Mazda wisely retained the car's upmarket interior feel throwing in sat-nav, a Bose premium sound system and a suite of airbags as standard. UK buyers have snapped up around 1,000 examples to date.
| | |
| --- | --- |
| | |
Brothers in arms
So just what is it that the very different-looking Ford and Mazda share in common? A good deal more than you might think. In fact, outside of the Volkswagen group, there are few cars sporting different badges that share more. Mazda was happy to confirm that its 3 MPS has Ford's global compact platform in common with the Focus ST. Developed in conjunction with Ford and Volvo engineers, common platform components include the front and rear sub-frames, many suspension, steering and braking components and even some of the same electrics. Ford was slightly less forthcoming, but did confirm the common development - whilst stressing that the two cars are very different. That said the Ford-backed Mountune Performance Pack raises the ST's peak power to exactly match the Mazda's. A coincidence perhaps?
There's certainly no doubt that both companies have ensured their own unique brand personalities shine through in the ST and MPS, which do feel very different from behind the wheel, but under the bodywork there are many similarities.
Family feud
Fast Ford history suggests that it's the rowdy ST, rather than its geeky Mazda MPS cousin, that most deserves the hardcore label. It certainly wears its heart on its sleeve and looks more dramatic than the first-generation 3 MPS. But delve a little deeper, live with the cars a little longer, and you realise that - in second generation form at least - it's the Mazda, not the Ford that delivers the more extreme driving experience.
The ST may claim greater badge kudos and is blessed with a ride quality and steering feel that front-drive hot hatches have no right to possess but with a lower driving position, lightning throttle responses (for a turbocharged motor) a brilliant torque-sensing limited-slip diff and better performance in standard trim the Mazda 3 MPS is a more dedicated drive. The first generation 3 MPS was far too dull and uninvolving, making the ST a clear winner, but this latest incarnation is the real deal. Sure the Ford is more forgiving if you make a mistake, or the road surface is against you, but in truth this second generation ST feels too wallowy by contemporary hot hatch standards - something the upcoming ST will hope to address.
These two sibling rivals go neck and neck in terms of reliability and cost to buy too, a gen one Mazda 3 MPS will set you back £6,200 to £10,000 whilst the latest 2009-on version is an £11,000 to £17,000 buy - exactly the same as the Focus ST. And if you're buying to tune, as many owners will be, it's the Mazda - with an exhaust, filter, remap, a fuel pump and some uprated hoses - which is slightly cheaper to 300bhp. Ford or Mazda owners looking beyond that figure will need to invest in a better intercooler and, above 330hp, a revised turbo as well.
But whether you fancy standard or tuned, both these takes on the hot hatch theme combine a thrilling drive with down-to-earth practicality. And buying and owning either one won't break the bank. But will Ford regain the upper hand with its all-new 2012 Focus ST?

---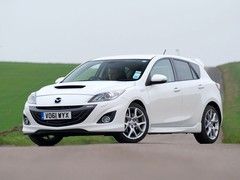 MAZDA 3 MPS
Engine:
2,261cc 4-cyl turbo
Power (hp):
260@5,500rpm
Torque (lb ft):
280@3,000rpm
Transmission:
6-speed manual
Kerb weight:
1,385kg
Top Speed:
155mph
0-62mph:
6.1secs
MPG:
29.4 (NEDC combined)
CO2:
224g/km
Price:
£10,995 to £17,450 (first gen £6,200 to £10,000)
Manufactured:
2009-on (second gen 2007-2009)
Love it:
No one knows what it is, affordable tuning potential
Loathe it:
Wimpy steering wheel and limited driver feedback
Spotted:2009 Mazda 3 MPS - £11,495
---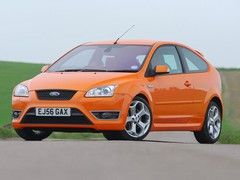 FORD FOCUS ST
Engine:
2,522cc 5-cyl turbo
Power (hp):
225@6,100rpm
Torque (lb ft):
236@1,600-4000rpm
Transmission:
6-speed manual
Kerb weight:
1,392kg
Top Speed:
152mph
0-62mph:
6.8secs
MPG:
30.4 (NEDC combined)
CO2:
224g/km
Price:
£6,000 to £16,000
Manufactured:
2005-2011, facelifted 2008
Love it:
Steering and ride are class-leading, charismatic exhaust note, tuneability
Loathe it:
There's nowhere to hide in an orange car, feels its age
Spotted:2007 Ford Focus ST - £7,450
---
Photos: Michael Ward