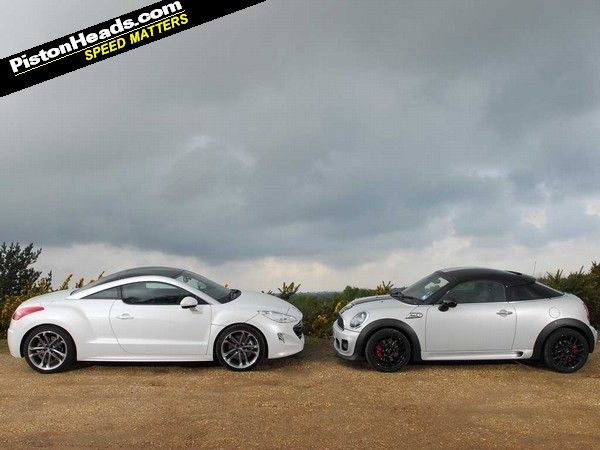 Coupes are big business, at least in the UK. Which is one reason why the arrival of
Toyota's
GT 86
and
Subaru's BRZ
has been so eagerly anticipated. But whilst the these two rely on light weight, rear-drive handling and a return to minimalist fun to lever you from your hard-earned cash, most of the current crop of UK sports coupes are altogether more refined, and less hard-edged - with the Audi TT leading the pack in terms of popularity.
And it seems we're not put off by the impracticalities, the DVLA reporting there are over 81,000 TTs currently registered in the UK, alongside over 38,000 Toyota Celicas, 24,000 VW Sciroccos, 21,000 Mazda RX-8s and close to 7,000 Nissan 350Zs. Add to that the two-door versions of hatchbacks like the Megane Coupe and others like the BMW 1 Series and more and you can see just how broad and diverse the sector is. Enter the Peugeot RCZ and Mini Coupe into the fray...
Compared with this more established bunch both are but young pretenders, yet with over 6,000 RCZs already registered in the UK the apparently insatiable desire for yet more variations on the coupe theme shows no sign of abating. And the Mini Coupe will surely cash in too. But in spite of their obvious brand, layout and styling differences the most desirable versions of these new coupes actually share a common engine.

Family tree
Few believed Peugeot would put the RCZ - first shown at the 2007 Frankfurt Motor Show as the 308 RCZ concept - into full production in such an unadultered form, but we're delighted it did. In a relatively conservative sector the RCZ is a real breath of fresh air - the Zagato-inspired double-bubble black-panel roof, sweeping aluminium roof rails, bulging arches and extended rear three-quarters all conspire to produce one of the most seductive coupe designs of recent times - with more than a hint of toned-down Le Mans racer about it.
Our top-of-the-range THP 200 model in GT trim boasts one of the most well-appointed and attractively-designed cabins in its class, which only the Audi TT betters. The sweeping, leather-clad dashboard, aluminium-surround dials and matching swathes of stitched leather trim are genuinely exotic in feel, whilst the kit list would put many executive cruisers to shame. As well as those acres of hide, all £25,945 GT versions also boast front and rear parking sensors, auto-dipping mirrors, auto lights, auto wipers, an adjustable rear spoiler, electric heated sports seats and gorgeous 19-inch Sortilege alloys. No surprise that Peugeot has already shifted over 30,000 RCZs worldwide, with 6,251 very satisfied UK owners - 3,805 opting for a petrol GT model.
Mini's coupe cousin in contrast comes from slightly more humble beginnings. On sale in the UK since last October it's another logical extension of the tried and tested Mini format, but comes with just two seats. And shares the same basic powerplant as Peugeot's RCZ.
Unmistakably Mini, the exterior styling is a matter of personal taste - certainly not a thing of beauty, it's perhaps best described as distinctive? That backwards-facing baseball cap roofline is guaranteed to provoke comment, whilst the sloping front and rear windscreens set it apart from its more closely-related Mini bretheren. A good deal shorter and lighter than Peugeot's RCZ, the Coupe interior design is almost identical to that found in other Minis: dynamic and youthful certainly - but glitzy rather than glamorous. However the top-spec £23,800 JCW version is touched off with 205/45-shod 17-inch alloys and some appealing John Cooper Works goodies. You'll need to be fairly ready to spend with the options to feel you've bought the real deal, putting the Mini level on price with the RCZ. So far Mini UK has sold 1,044 Coupes in 2012, with the JCW accounting for just 94 of those sales.

| | |
| --- | --- |
| | |
Brothers in arms
Automotive joint ventures are all the rage nowadays, and these two coupes - despite different brand images - share the same co-developed BMW/PSA Peugeot Citroen 1.6-litre powerplant. In fact it's just one of a family of joint engines that can be found under the bonnet of everything from a BMW 118i to a Citroen C3.
Peugeot and Mini have managed to save on expensive engineering development and manufacturing costs whilst each marque has maintained a degree of independent control over the fine tuning. So for example the Peugeot RCZ THP 200 has marginally less power than the JCW Mini Coupe, but a tad more torque. It also claims better economy and lower emissions.
From behind the wheel though, these disparities are insignificant - especially given the differences in kerb weights, gear ratios and exhaust systems.
A win-win for both parties then, although one suspects RCZ owners will be more happy with the thought that a 'Mini' engine sits under their car's bonnet, than Mini owners will be hearing their Coupe's motor described as a 'Peugeot' unit.
One thing is certain though - despite almost no family resemblance whatsoever - deep inside these two coupes beats an almost identical heart.

Family feud
Despite this deep-seated commonality their outward appearance is very different. And their approaches to life are very different too.
Peugeot's suave RCZ is finer to look at and sit in than drive hard, whereas Mini's brash JCW Coupe is the complete opposite. A specced-up hot hatch in all but name, it's a hoot on smooth test-track tarmac, yet on rutted UK roads the suspension is just too crashy, the rear visibility laughable and the cabin layout borders on deranging.
Peugeot's first no-zero hero (the clue is in the name!) feels and sounds just as feisty as the JCW Mini - despite longer gear ratios - boasts epic levels of grip, identical performance, a spacious premium interior, far better damping and an almost neutral balance which permits a degree of adjustability. But the steering lets it down. It's too light at higher speeds, and when pressed leaves you guessing - where the Mini Coupe tells you in no uncertain terms what's going on at the front. Perhaps we should forgive that ride quality after all?
When it comes to flashing the cash however, there is only one winner. The JCW Mini Coupe is predicted to retain 45 per cent after three years, against 38 per cent for the RCZ. Which is impressive - but that means a second-hand RCZ is even better value. So although you'd need the thick end of £24,000 to buy either car brand new, you can pick up a mint 10,000-mile 2011 60-plate RCZ THP 200 GT, with two year's manufacturer warranty, for just £16,000. And in a coupe-crazed market place a good-looking premium feel two-door that offers decent performance and exceptional value for money will always succeed; especially if it has a 'Mini' engine at its heart.

---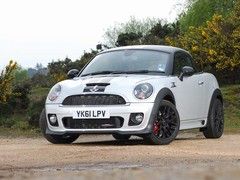 MINI COUPE JCW
Engine:
1,598cc 4-cyl turbo
Power (hp):
211@6,600rpm
Torque (lb ft):
192@1,850-5,600rpm
Transmission:
6-speed manual
Kerb weight:
1,240kg
Top Speed:
149mph
0-62mph:
6.4secs
MPG:
39.8 (NEDC combined)
CO2:
165g/km
Price
: £21,500 to £25,200
Manufactured:
2011-on
Love it
: Cool brand, outstanding residuals
Loathe it:
Mini - it's time to change that interior
Spotted:2011 Mini Coupe JCW, £21,950

---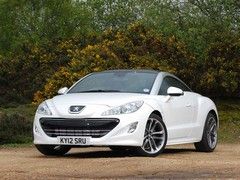 PEUGEOT RCZ THP 200
Engine:
1,598cc 4-cyl turbo
Power (hp):
200@5,800rpm
Torque (lb ft):
206@1,770rpm
Transmission:
6-speed manual
Kerb weight:
1,421kg
Top Speed:
146mph
0-62mph:
7.6secs
MPG:
42.1 (NEDC combined)
CO2:
155g/km
Price:
£15,989 to £25,995
Manufactured:
2010-on
Love it
: Looks and feels special
Loathe it:
Steering needs to work on its communication skills
Spotted:2011 Peugeot RCZ THP 200 GT, £16,988

---
Photos: Michael Ward