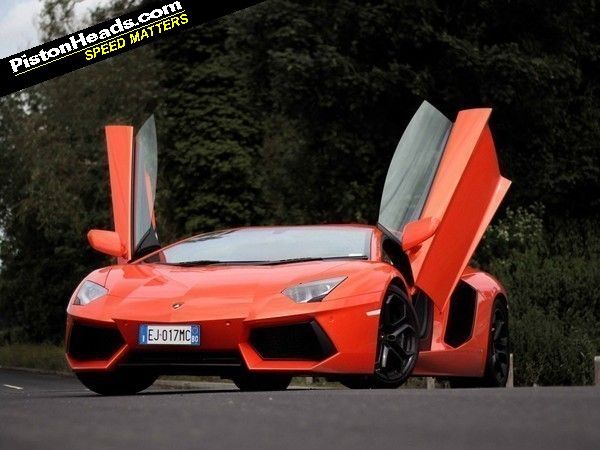 Just what do you do with a car like the Lamborghini Aventador? Once you've done the 'cor, looks amazing, goes really quick' thing
what's left?
How about a bit of a roadtrip to meet up with an owner of every significant V12 Lamborghini supercar in one single day?
Ambitious perhaps. But worth a crack…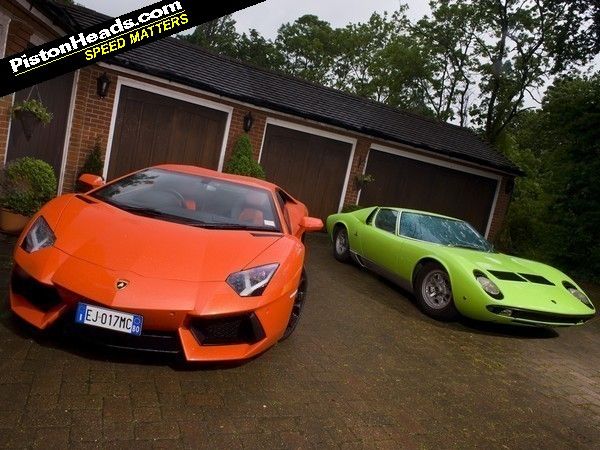 0900h, Rickmansworth, Lamborghini Miura
Having failed to fit snapper Antony Fraser's gear into the Aventador – he follows in his Passat – the first stage of our journey is an easy half an hour on a rain-sodden M25 to meet with Miura co-owner Jane. The weather is a worry. Not so much with the Aventador but more with the owners – will they still be willing to get their cars out on such a stinking day?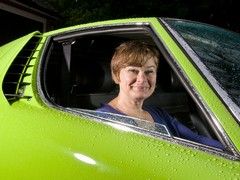 Jane's Miura is the jewel in an amazing collection
Behind anonymous power-operated gates Jane's house hides a treasure trove. Time is tight but garage after garage is opened and each provokes a gasp. There's a Japanese homologation 240Z/Fairlady ZG. An XJ220. A DeLorean. Some mad 8.2-litre trike. And a ton of other stuff, all of which works for a living for hire to TV and film production companies.
The Miura is clearly something special to the family though, even in this company. "It was my late husband's dream," says Jane simply, the car bought 12 years ago. Upgraded to S spec in 1968 it's used in a refreshingly no-nonsense way, with Jane taking the car out for club events and regularly putting the miles in. "People say 'you'll trailer it around' but she's there to be driven. There are challenges – the turning circle and the view make reversing interesting, as are motorways. We wouldn't put mirrors on it though, we're terrible purists about things like that!"
And the driving experience? "Over 100mph you feel the lightness in the front end but in deference to the age and sentimental value I don't push too hard," says Jane.
So what does she make of the Aventador? "I think it's gorgeous!" she says, taking in the Miura references like the slatted engine decking. "I was never a huge fan of the Countach, but this is a lovely car and very much back on track." We could spend all day shooting the breeze but there are three more Lambos waiting and, reluctantly, we hit the road.
---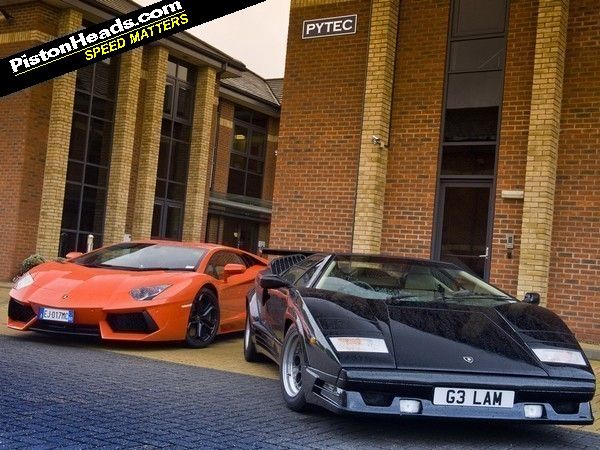 1130h, Northampton, Lamborghini Countach 25th Anniversary
Having posted a picture of the Aventador alongside the Miura on the PH Facebook page I'm wondering how many of the 'nice work if you can get it' responses would be so keen on the reality of piloting £300K's worth of Lambo along the M1 in thick spray.
It's with some relief when we rock up at the Northampton business park where – thankfully – Countach owner Tom has swallowed a brave pill, left his GT-R daily driver at home and guided his black 25th Anniversary through the rain. Top man.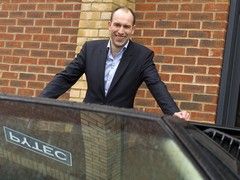 Tom's Countach realises a boyhood dream
A former TVR owner, Tom, like many of a certain age, grew up with a poster of a Countach on his bedroom wall. But he also remembers the real thing. "I must have been seven or eight and we'd taken a trip into London and we saw one," he muses. "He parked it on a double yellow and I thought, wow, you can do that in them too! And then I saw the Cannonball Run and I knew it had to be a black one!"
Now, Horacio Pagani has done many cool things but, politely, his 25th Anniversary additions to the Countach haven't garnered universal praise. Tom's unapologetic though. "As a child of the 80s you've got to have the spoilers haven't you?" he grins, adding, "and in terms of driveability it's better too. The guy I bought it from had owned several of them and said if you want to actually use it the Anniversary is the one."
And how does the dream match up to the reality? "It's brilliant!" he beams. "By modern standards it's not too fast but the grin factor from the noise is fantastic."
Tom's car is fresh back from a brake and air-con rebuild that didn't come cheaply and his annual budget for repairs is … burly. But given the way Countach values are going let's just say even with the service costs he's sitting on an appreciating asset.
And what does he make of the Aventador? "It's my first exposure to it," he muses. "It's got massive presence … and massive width!" One thing we're all in agreement on though - compared with the Countach it sounds a little, well, dull!
---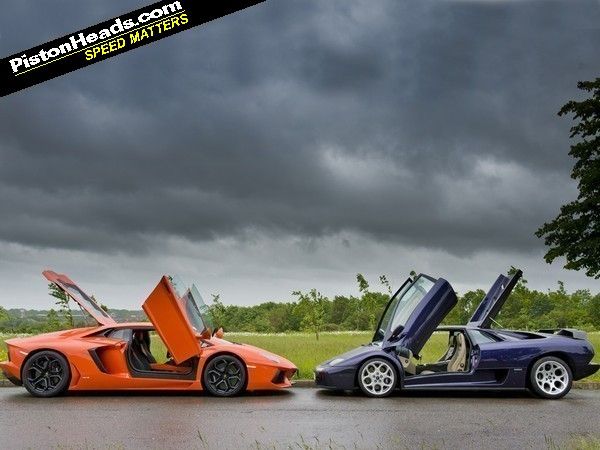 1330h, Milton Keynes, Lamborghini Diablo 6.0 VT
After the unrelenting misery of the M1 a promising cross country route to MK is swiftly thwarted by dawdlers. The reward at the end of it is the sight of Phil's stunning purple Diablo 6.0 VT, a car that appears so drastically out of step with this quiet Milton Keynes cul-de-sac as to be downright rude. Outrageous in size, boasting a giant carbon rear wing and viper's nest of writhing exhausts beneath the rear valance between steamroller width tyres there's absolutely nothing subtle about it. Which suits Phil just fine, thank you very much.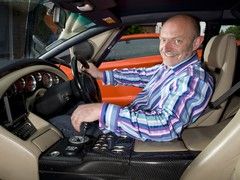 Grin tells you all you need to know!
Why a Diablo? "I drove TVRs because they were giant killers. And the giant to kill in the 90s was the Diablo," he says, his Bosscerbera PH username revealing he hasn't entirely kicked the Blackpool habit yet.
He wasn't sold initially though. "5.7s are a bit truck-like but I drove a 6.0 and it was a revelation," he says. "I went to see this one and tried to do the teeth-sucking and tyre-kicking thing but resistance was futile and it was like 'have it wrapped and brought to my room!'"
He goes on, "It's the best of both worlds too. Early Murcielagos are too Audi and a bit tame. This is one of the best things they've done. The 6.0 has probably the best interior they've ever done. Getting stuck in jams at night is no hardship because I just sit there and drink it all in!"
It's not exactly mollycoddled either. "It's done a few tracks," says Phil. "It's a great hooligan machine but it's not got great brake stamina." He also tells an amusingly cautionary tale of what happens when you try to do doughnuts with fresh, grippy rubber. Lots of smoke, a new clutch and a five-figure bill. Other than that servicing reveals "no horrors" other than the need to get it on a lift ("a pantomime!") just to change sidelight bulbs.
And the Aventador? Phil's tempted. "When I first saw it I thought they were trying too hard and early reports said it was easy to drive," he muses. "And then I saw a gold one and it was wow! As I'm getting older I'm looking for something a bit more sensible and this might do the job!"
---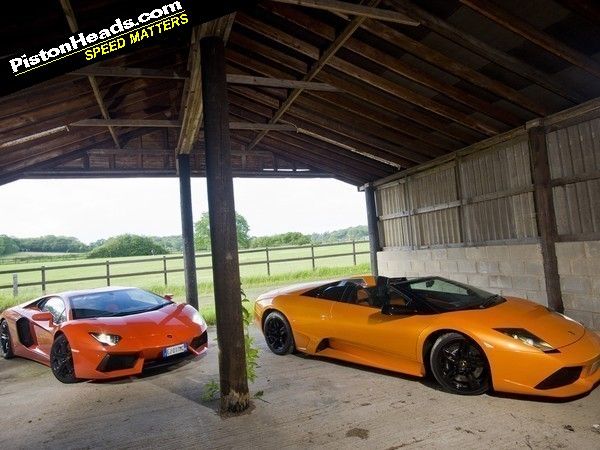 1630h, Billericay, Lamborghini Murcielago LP640 Roadster
It'd be nice to report that a day of epic Lamborghini tyre-kicking could also include some suitably epic driving. Sadly the only epic thing today is typical Friday afternoon traffic and it takes us a while to make it to our final call of the day in Essex to meet Mark, our Murcielago owner.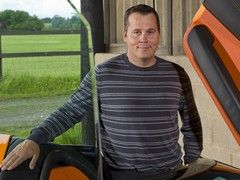 LP640 Roadster is Mark's third Lambo
And, guess what, he's another former TVR owner who had posters of a Countach on his wall as a kid and, well, you know the rest by now. So why not that Countach? "I came close to a 25th Anniversary but I backed away in the end when the reality kicked in," he admits. Instead he went a generation on and bought a Diablo. But the dream wasn't quite there. "Looks-wise it was stunning," says Mark, "and the noise was lovely but it just had setbacks from new; the steering and clutch were too heavy, the brakes weren't any good."
True Lambo love came with his first Murcielago and the smile on his face tells you all you need to know. Two weeks ago this evolved into the searing orange LP640 Roadster you see here, the smile even bigger. "I had a Tubi exhaust on my first Murci and I enjoyed that," he says, "but this one just seems to run even smoother."
And what of the dream-reality equation? More grinning. "You can have the worst day in the world and with one turn of the key it's forgotten," he says.
Having been to a customer unveiling he's been up close to the Aventador before too and, at first, he's measured in his appraisal. "For me the front isn't quite dramatic enough … it does flow though," he says. A quick ride down the lanes and he's a lot more positive. 700hp does that to a fellow, it seems!

---
A huge thanks to all our Lamborghini owners for giving up their time to share their cars!
Photos: Antony Fraser