Manufacturer museums are wildly different around the world, with the neglected ones giving you the feeling you've stumbled on a barn find. And so it goes for the Mitsubishi museum at the firm's longstanding R&D base in Okasaki, south west Japan.
On the ground floor of a dreary office block, the small space has all the appeal of a 1980s provincial car showroom. The pond-green, stained carpet tiles anchor a colour scheme that Ricky Gervais would have rejected from The Office film set for being too contrived in its drabness.
But all is forgiven when you see the cars. As appropriate for this time-warp, the newest is a 1992 Galant VR4 WRC, as driven to victory in the Ivory Coast WRC round.
Not an Evo in sight, but you quickly realise this is like walking through an episode of Who Do You Think You Are?, starring Mitsubishi's iconic super saloon. Hot Lancers stretching back to the early 70s are displayed in some exquisitely period colours. Military green was a challenging hue, to say the least.
But also on display is Mitsubishi itself - establishing the company as a fascinating, engineering-led renegade of the Japanese car industry. From a shrunken model of its first car, a Fiat-derived Model A from 1917, to the post-war three-wheelers and the dinky minicars, it's all here. The place also traces the firm's 4x4 history right back to a 1935 Army staff car.
There's a massive warehouse nearby holding all the cars that didn't make it, and a look at the model chart on the wall shows there are some ridiculous names in hiding: like the Zinger, Mirage Dingo and Toppo BJ. You can bet the Dignity had none (shades of the Carisma there). On the other hand, the full range of Silver Pigeon mopeds are present.
Mitsubishi's performance engineering might be out of favour with the market at the moment, but this place gives you confidence it'll be back, once again using technology to spearhead its return.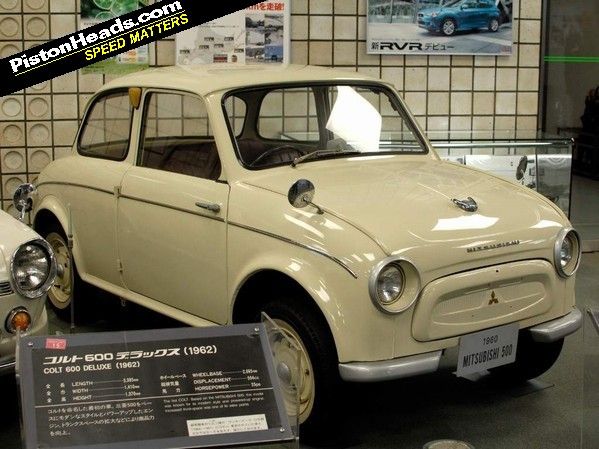 Mitsubishi 500, 1960
Three year after Fiat's 500 came this 21bhp mini - Mitsubishi's first car since 1921. Also the first car in Japan to be wind tunnel tested.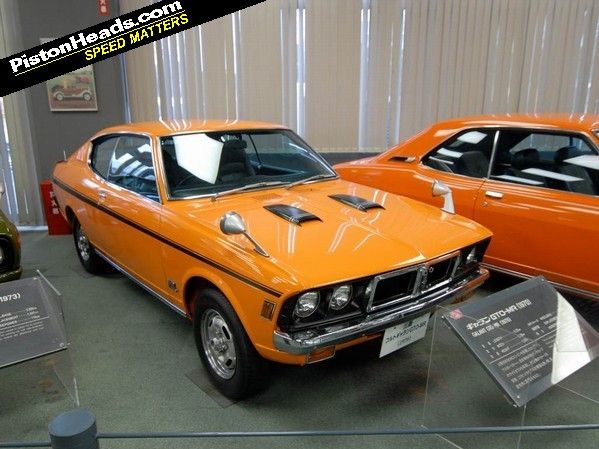 Galant GTO MR coupe 1970
The Evo starts here. Hot version of standard Galant had US muscle car styling touches, plus twin-carbs on its 1.6 to make 123hp. Gran Turismo Omologato named revived for car we knew as 3000GT.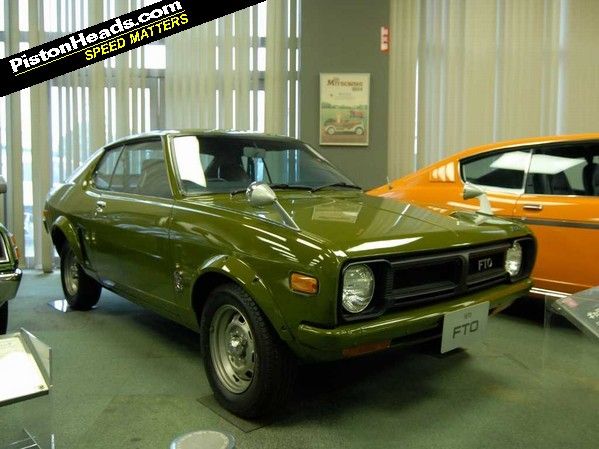 Galant FTO 1600 GSR Coupe, 1973
The hardcore version of the shorter-bodied Fresco Turismo Omologato introduced the name now famous to Mitsubishi fans. Limited-slip diff as standard.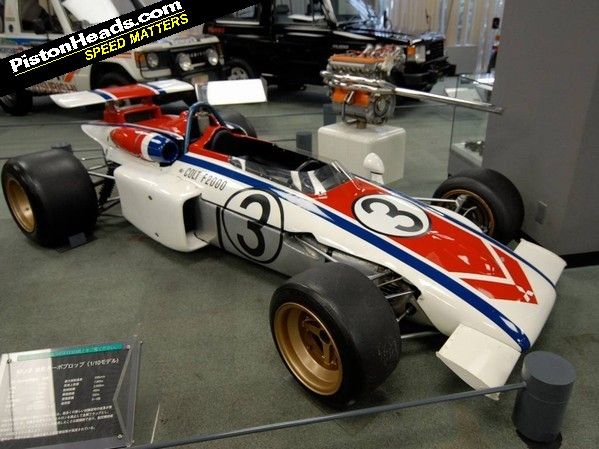 Colt F2000 single-seater, 1971
Mitsubishi's last ever single-seater had a side-mounted radiator the company boasts was installed before Colin Chapman came up with the idea.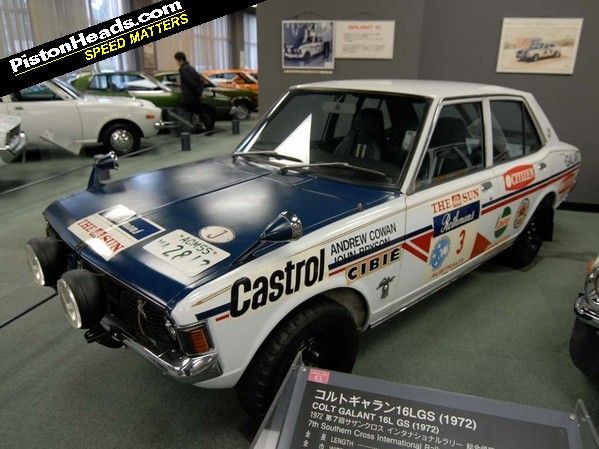 Colt Galant 16L GS rally car, 1972
Entered into the Aussie Southern Cross rally, this saloon strained its 158hp 1.6 to snatch victory. As the sign boasts, "this was our opening act of glory in our international rally activity."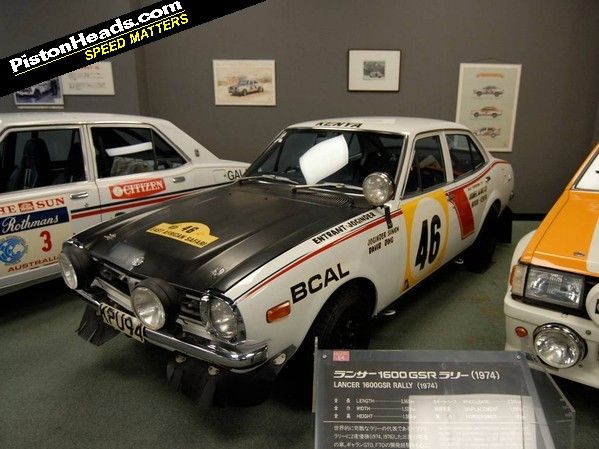 Lancer 1600 GSR rally car, 1974
Mitsubishi's most successful rally car, says the (surely out of date) sign. Achingly cool though, and twice winner of the Safari rally.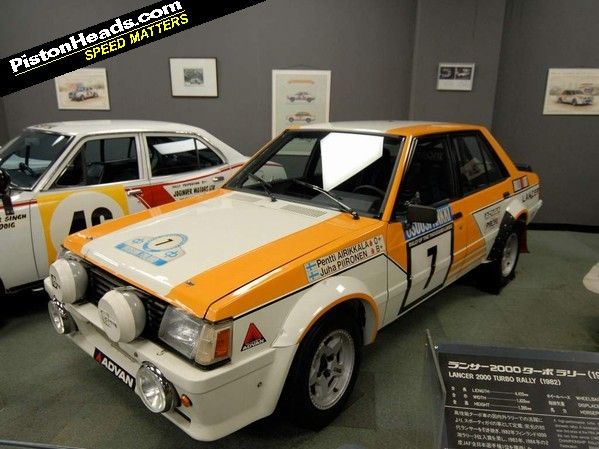 Lancer 2000 Turbo Rally 1982
The first Evo template. Turbocharged two-litre four making 276bhp. One of the stars of the museum.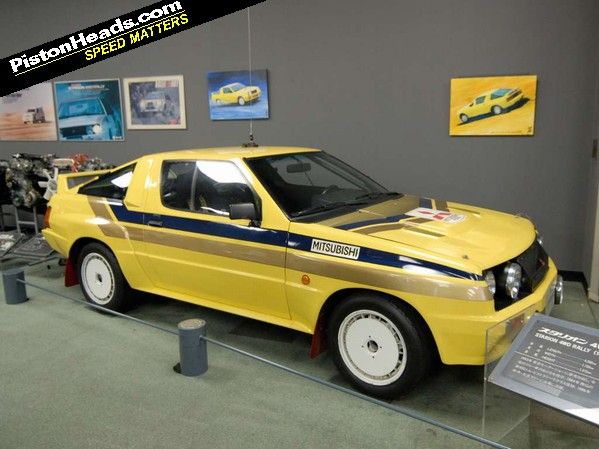 Starion 4WD rally car, 1984
Mental long-distance rally car making an astonishing 345bhp from its turbo-charged two-litre. Standard car famous for its smooth 'silent-shaft' (no sniggering) balancer tech licenced to Porsche for 944.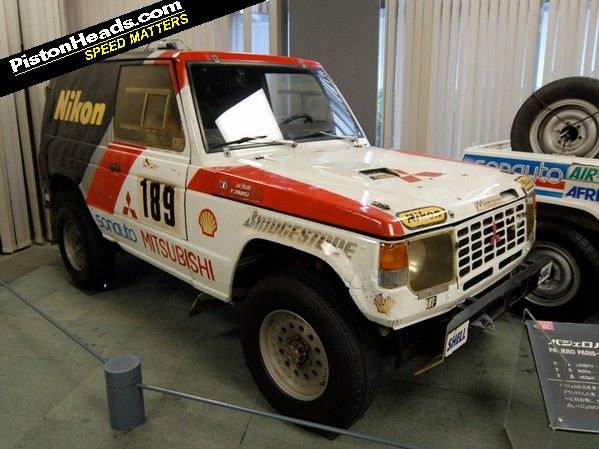 Pajero Paris Dakar, 1985
First entered in 1983, the truncated 4x4 romped to victory two years later. An awesome achievement.