An interesting Q&A with ISS astronaut Gregg Chamitof -
Q. Do you use a common wristwatch on board or do you have a special one? -- Mauricio Londono, Colombia, South America
A. Well, let me answer the question this way. (Lifts his arm to show the three watches on his wrist.) We've got a lot of different watches on board. One of these is actually for an experiment. It's trying to look at the effect on sleep cycles and studying the amount of light that we're exposed to and the movement that we have. It's looking at both of those things in response to being in zero gravity and also the light and day cycles we have up here.
Another watch is a spaceflight-approved watch that NASA issues to us. And, that watch is a regular watch, but it also can keep track of a lot of different times, like GMT and Mission Elapsed Time and regular time, and it has some alarms on it that we can use. So, that's kind of the daily watch that we use.
And then, I have another watch that I'm using, which is kind of more of a sports timing kind of watch, and I use that to get alarms set by synching it up with a computer for Earth observations because we get – daily – we get a sequence of opportunities to take a picture of something on the ground that has to do with a science observation opportunity from different sites around the world. And, it could be anything from looking at the way water use is affecting a particular region or how a region has changed because of burning or just a current hurricane, something like that that's happening right now. So, this watch I use to set alarms for that so that throughout the day, the alarm goes off for that, and I can grab a camera, race to a window, and try to capture some pictures.
Anyway, you know,
my dad always used to say that somebody with a watch always knows the time, and somebody with two is never sure.
So, I'm pretty confused about the time, I guess."
http://www.nasa.gov/mission_pages/station/main/qa_...
Had to laugh at his dads take on things!
I presume the issue one is the G-Shock.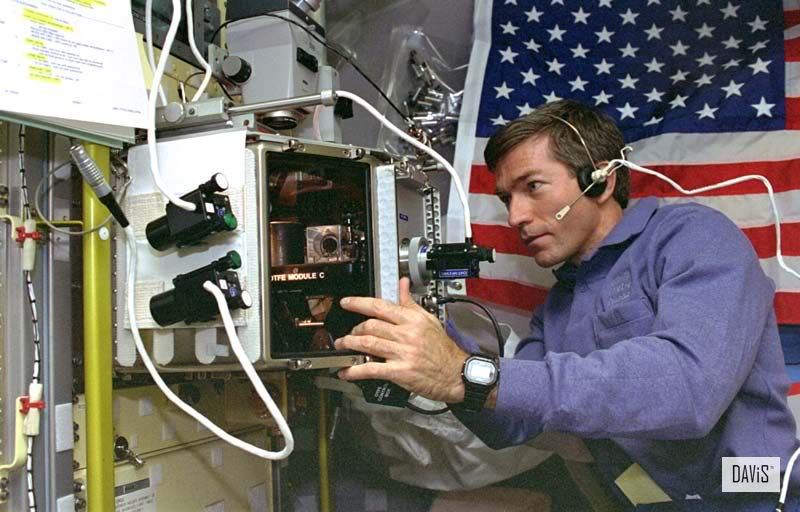 ...This might be a training picture however.
Lots of G Shock fans will tell you G Shocks are a common sight on the ISS. They are self owned IIRC and most certainly not issued by NASA.
The Fitya Spacemaster is, I think, the 'Official' Chinese watch. This has been on a spacewalk too.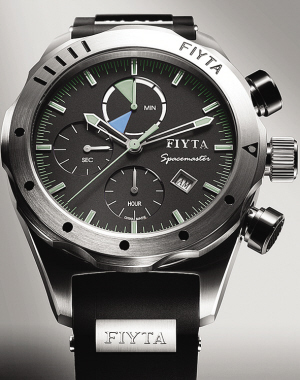 A close second to the Speedmaster in terms of 'Space Heritage Awesomeness' is the Seiko Spacewalk.

It's a Springdrive, so costs a zillion quid before you slap on the space premium. That's if you can find one.
sneijder said:
Lots of G Shock fans will tell you G Shocks are a common sight on the ISS. They are self owned IIRC and most certainly not issued by NASA.
Mmmm - do they issue the Speedmaster still (except when in the pool I presume?!)?
Isn't it just the Speedy pro which is 'mission qualified' and the 4 types of G-Shock and a Tissot that are 'flight qualified'? Don't know where the X-33 fits in - maybe that's one he was talking about.
sneijder said:
The Rolex Space Dweller is a funny one, didn't go into space and was made for the Japanese market after a visit by the Mercury/Gemini astronauts - now fetching a hefty premium like all their rare issues. Pretty cool dial inscription though.
Here's a wiki list (so it must be true...) of NASA qualified watches - it was Timex Ironman, not a Tissot that was the latest one to be added -
Flight-certified by NASA for all manned space missions:
Omega Speedmaster Professional 3570.50.00
Flight-Qualified by NASA for space missions:
Omega Speedmaster Professional X-33
Casio G-Shock DW-5600C
Casio G-Shock DW-5600E
Casio G-Shock DW-5900
Casio G-Shock DW-6900
Casio G-Shock Master of G G-9000
Timex IRONMAN Triathlon Data Link
Edited by andy_s on Tuesday 20th April 08:27
Gassing Station | Watches | Top of Page | What's New | My Stuff