Wednesday 27th June 2012
Want to camp with PH at Le Mans 2013?
Yes,we said 2013! Spaces fill up fast so register your interest today
---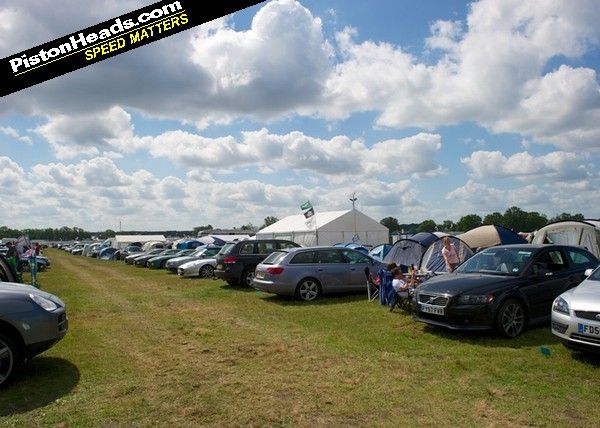 For many, the Le Mans 24 comedown is only just starting to subside. Some, however, are still feeling smug as their Le Mans experience is yet to come with the Classic looming on the horizon. One thing's for sure though, soon enough we'll have to start the planning all over again as excitement builds for 2013.
Vinyl stickers need planning, bigger tents need buying, shirts need designing and camping pitches need to be booked. And that's where we can help.
PistonHeads camping at Le Mans is now one of the best places to lay your head when in France thanks to the efforts of 1st-Tickets and the PH team constantly seeking ways to improve our offering year after year.
This year we opened the gates to the best-ever PH private campsite, based on Bleu Nord just 10 minutes from the circuit entrance, with space for 140 pitches and features including:
Secure perimeter fencing with 24-hour security patrols – not only does this mean the contents of your tent are secure, it also means your car is safe while you spend time at the circuit.
Private toilets and showers with on-site cleaners. For those of you who have been to Le Mans you'll know the importance of clean facilities and hot water.
Marquee with bar facilities, live race coverage, seating and phone and camera charging points. Tea and coffee is also available throughout the day.
Daily fresh bread deliveries. Order daily for early morning delivery ready to collect as you wake.
On-site catering from Laverstoke Park Farm with a selection of hot breakfasts and evening meals. Meals can be purchased as you want them or by taking advantage of a three-day meal deal voucher
Team talks – drivers and team members from Le Mans race teams visit the private bar for Q&A sessions on Friday.
Wi-Fi Internet access available to all private campers.
Marked and reserved pitches – no need to rush to claim your pitch.
Private water and waste facilities.
Site open from Wednesday to Monday.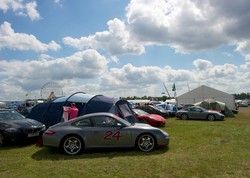 1
st
-Tickets and PistonHeads will seek to enhance the site even further for 2013, but as per usual spaces will be limited and do sell out fast.
If you want to register (no obligation) interest in staying with us in 2013, send the 1st-Tickets team an e-mail with '2013 private camping' as the subject line and we'll write to you with pricing details as soon as we can - before we publicise details on the PistonHeads homepage, giving you a head start with your 2013 plans.
Thanks to all who camped with us this year, and please continue to send Brian and the 1st-Tickets team feedback as it helps us to get better every year. We look forward to welcoming you all on site next year should you choose to stay with us.
Pics: Friedrichphoto.com
Gassing Station | Le Mans | Top of Page | What's New | My Stuff