F1 Tobacco Advertising in "the good old days"
So, been watching the classic F1 on the BBC website, namely the 1985 European GP at Brands, Mansells first victory. I noticed that the cars didn't have tobacco branding (McLarens had a barcode where Marlboro should be, Lotus had gold horseshoes instead of JPS, Ferrari had the red and white Marlboro logo just without the Marlboro word), yet trackside were plenty of Marlboro hoardings, and a bridge over the track had "John Player Team Lotus" written on it. Noticed it in the old British GPs as well in the 80s, any ideas?

It was an odd loophole in the legislation at the time that prohibited tobacco sponsorship on the "elements" of a sport but not the "infrastructure" (not exactly the wording but the essence is there).

That's why until even as recently as 10 years ago, you still has the Embassy World Snooker or Embassy Darts championships.

I believe the covering up of the tobacco branding on the actual cars was introduced in the Germany in 1976 but only if the race was on TV..

I think the covering up was introduced in the UK in 1980...

I remember up until 85 at Silverstone the race was known as "The Marlboro British Grand Prix" after that Shell oils were the sponsor..

Even then they still had dolly birds dishing out free ciggies...



...and this is how it all started (I remember it very well. It was part ofmy childhood)
Contrary to common belief, it wasn't Team Lotus that introduced non-automotive full-livery sponsorship to international motor racing. Although Colin Chapman loved to exploit it that way, it would only be correct in terms of a full World Championship campaign.
The first Company to line up two fully liveried Formula 1 cars at the grid of a Grand Prix was the Gunston Cigarette Company of Rhodesia, now Zimbabwe. Gunston introduced tobacco sponsorship to motor racing when they sponsored Rhodesian drivers John Love and Sam Tingle in the 1968 South African Championship for F1 and F5000 machinery.
In the 1980s, certain details of the cigarette sponsorhip was not shown on F1 cars racing in Britain and Germany. Over the years, there was some variation in what could ot couldn't be shown on the cars in those races but generally the ciggie colours were allowed but the cigarette name wasn't.
The first sponsored F1 team to be entered in a World Championship F1 race under a sponsoprship name was the Yeoman Credit/UDT Laystall team which ran customer cars in 1959 to 1962. They variously ran Coopers, Lotuses and BRMs.
Under the regulations at the time, they could not carry sponsor's stickers or logos on the cars but they did paint the cars in a rather peculiar interpretation of British Racing Green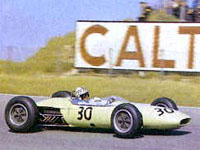 Gassing Station | General Motorsport | Top of Page | What's New | My Stuff