I did put this in my Elise RC thread but it's been so good that I decided it needed it's own thread.
Bought for the princely sum of £580 it has done 2k miles with me faultlessly so far and in relative comfort and quiet.
The reason for buying it was to be able to drive year round reliably and keep the Elise out of the way of winter salt and keep the miles down as it's such a low mileage car.
The HRV is not well known which makes it a bit of a bargain. It uses the same dual pump 4wd system as the CRV and itself is under-rated. It's not as off-road hardy as a proper 'locker' but for winter hacking it's perfect.
http://www.youtube.com/watch?v=FN6ntE7tyo0
http://www.youtube.com/watch?v=Sbosxs8kQKg
When I bought the car it came with a mix of crappy tyres so I got on ebay and have bought a set of the well regarded Pirelli SottoZero's which are proper winter tyres so hopefully they will see me through any bad weather.
Mine is specced pretty well with electric folding mirrors, working AC and optional fog lights. Everything appears to work well and belies its quite hefty 146k miles.
The service history is excellent and the oil was clear and it had new plugs, cabin and air filters this year.
The bad bits? A little surface rust on one arch and the radiator looks a little fin bashed. I'm not bothered about the rust as I'm getting a 22" PH smiley to cover it

and the rad is only £30 on ebay so I'll flush the coolant out and fit that whilst getting some mesh to cover the lower front grille to protect from any flying stones.
The only thing that I'm unsure of whether has been done is replacing the rear diff fluid. Pretty important with these so I'll do that as well. It's an interesting system and more reading can be done here.
http://www.awdwiki.com/en/honda/
Anyway, if you're looking for a winter beater that's practical and cheap then give these some thought. IMHO it's a lot of car for the money.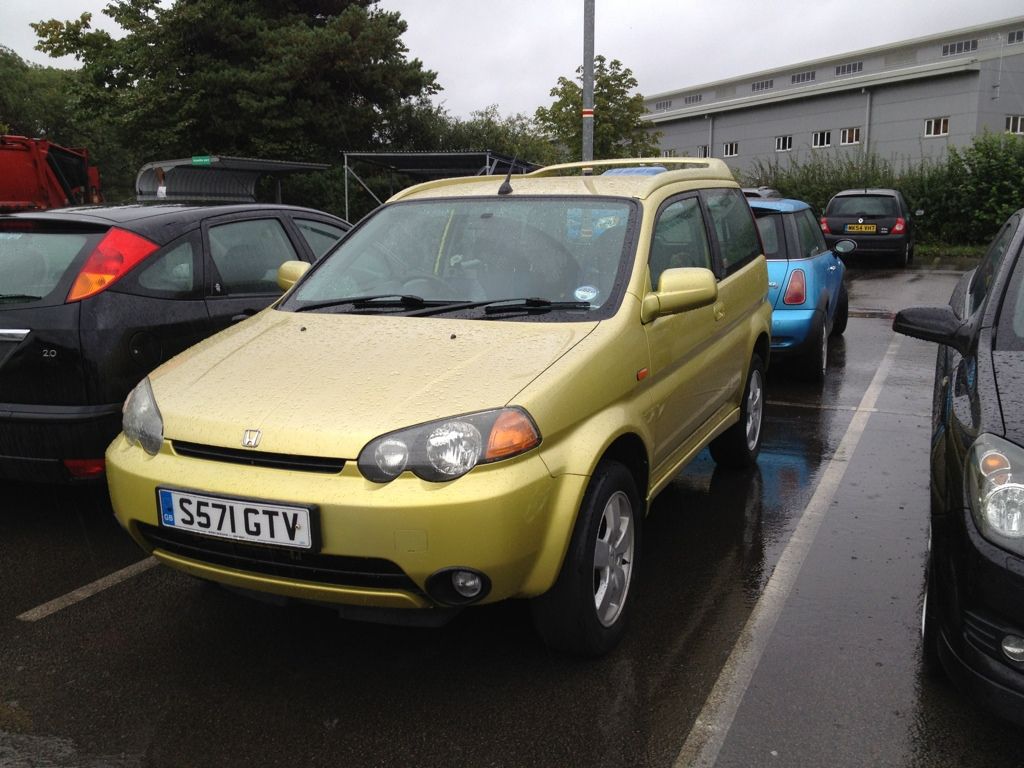 It looks like a lot of car for £580!

And my personal experiences with Honda have been extremely good with the 3 I've owned been faultless over a lot of miles including a Civic Type R that never put a foot wrong regardless of the abuse I gave it.

I'm a big fan of the brand and I like the idea of the HRV as something that can go most places in the winter.

Lee

Not terrible on fuel. Not great admittedly and normal about 32-3mpg.
Because of the low initial cost and the zero depreciation I'm happy enough to buzz about in it. Put a full MOT on it and sell it on in the spring when I get the Lotus back out.

In 2002/3 it came second in the which reliability survey. It had a new windscreen recently and doesn't have the CVT so the only known areas of concern it escapes from.

Looking forward to some snow so I can start sliding about!

Gassing Station | Readers' Cars | Top of Page | What's New | My Stuff