Tuesday 22nd November 2011
Aston Martin V12 Vantage GT3 now testing
Angry on the outside, comfy on the inside, Darren Turner says you can drive the new Aston GT3 without breaking a sweat
---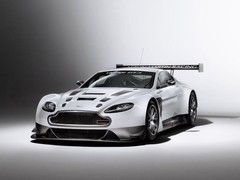 Looks like it should eat 911s for breakfast
Had enough of the 911 overload? Well, Aston Martin may have the answer,
its £300K V12 Vantage GT3 racer
now undergoing shakedown testing ahead of its race debut next year. A couple of weeks late for Halloween, the scary looking V12 GT car couldn't be more different from the 911 GT3 R that is its most comparable off-the-shelf-racer rival.
The 2012 GT3 R goes on sale this month, priced at 304,500 Euros, plus VAT. An upgrade kit for teams with the current car worried about the Aston is available for 43,100 Euros. This comprises a new intake system boosting power by 20hp to 500hp and a revised gearbox with paddleshifters and upgraded software.
Will that be enough for Porsche drivers presented with the rather worrying vision in their mirrors that is the Vantage GT3? Certainly if intimidation was part of Aston's design brief it's come up trumps, the 600hp delivered by the 6.0-litre V12 engine meaning it's got the muscle to back it up too.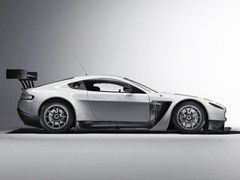 Vantage now at the core of Aston's GT racing line-up
The replacement for the successful DBRS9, the new car takes advantage of the smaller overall size of the Vantage, team driver Darren Turner saying that the new car is "a massive step forward from the DBRS9." Much of that benefit derives from the smaller size. "It is more responsive and feels more nimble," says Turner, "giving the driver plenty of confidence to extract all the performance from the V12 engine while also being light on its tyres. It isn't too physical and I didn't even break into a sweat during the test!"
The engine and basic architecture are based on that of the V12 Vantage road car, the new Vantage geared up for serious frontline competition and following on from the V12 Zagato race car Aston ran at the Nurburgring 24-hour earlier in the year. And driven on PistonHeads!
The new car is much more of a finished product though and will join Aston Martin's line-up of full customer race cars. It'll be eligible to run in a number of GT championships, including the FIA GT3, British GT, VLN and Blancpain Endurance Series. Deliveries start early next year and it's yours for £295,000.

Gassing Station | General Gassing | Top of Page | What's New | My Stuff