Friday 18th May 2012
Pic of the Week: Shelby beyond the Cobra
Why Carroll Shelby was more than just a race car constructor
---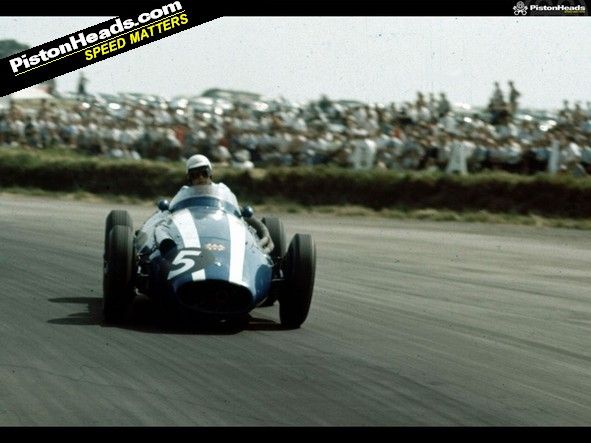 With the sad news of motoring legend
Carroll Shelby's death last week
, the chat and tributes to the great man have - probably rightly - focussed on his work with Cobras and Mustangs.
But Shelby wasn't just a car constructor, he was also a racer. As this picture - taken during the 1958 British Grand Prix - proves, he had a fair bit of natural car control, too.
Shelby wasn't a hugely successful F1 driver - he only made eight GP starts, and this picture captures him on the way to ninth place in the non-works Scuderia Centro Sud Maserati 250F (his best GP result was a fourth in Italy). But the very fact he was there, mixing it with the likes of Moss, von Trips et al, makes him even more of a legend to our minds.
Traditional (4:3)
Computer widescreen (16:10)
TV widescreen (16:9)
Portrait (smartphone etc)
bigblock said:
Blue with white stripes, I wonder if that's where he got the idea from.
Theyre original, pre-sponsorship, national racing colours (white with blue or blue with white Cunningham stripes). That said, I wonder if he will have a blue with white stripe coffin? Shelby was a true motoring legend, like Ferrari and anyone who raced in Grand Prix in the nineteen fifties deserves recognition as a brave man!
A sad loss to the motoring and racing world - A great Guy !
I was at Silverstone in 1958 to watch Mr Shelby drift that 250F as shown in the photo - at Beckets or Stowe Corner by the look of it - I met him briefly in the Paddock and did the usual 'Autograph ' thing. The Race Colours are basically as stated by other contributors - back then, there was no real sponsorship, so Grand Prix cars raced in the National Colours of the drivers or Car Owners - Blue with 2 White stripes ( or reversed White with 2 Blue Stripes ) were, and still are the official Motor racing Colours for the USA - Red was Italy ( as still used by Ferrari ) Green for England, Silver for Germany, Solid Blue for France etc etc. Now we have all the glaring sponsor colours - I am a bit old fashioned I'm afraid !! Hope this helps. R

Gassing Station | General Gassing | Top of Page | What's New | My Stuff