Thursday 28th March 2013
Mercedes CLA45 AMG: New York Motor Show
Can't take the idea of an AMG hot hatch? Try the A45-based 'baby CLS' CLA45 AMG instead...
---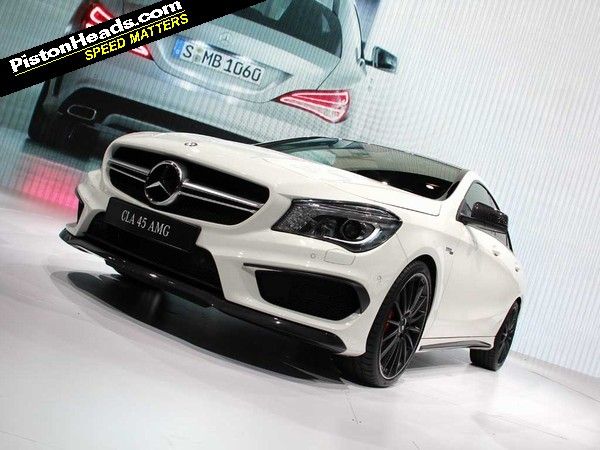 The
new A45 AMG
is a big step for Mercedes' performance brand and if you can't quite stomach the thought of a hot hatch here's the coupe/saloon version, the CLA45 AMG making its debut here at the New York show.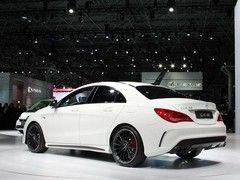 One exhaust pipe per cylinder for CLA45
We knew it was coming of course, AMG development man Tobias Moers confirming as much as he talked us round the A45 at Geneva but New York is an earlier debut for the hot version of
the CLA
than we expected. And, yes, it's basically a shrunken CLS AMG. With a four-cylinder turbocharged engine and four-wheel drive of course.
Like the A45, the CLA45 gets a 360hp turbo four-cylinder built under AMG's 'one man, one engine' policy and driving through a Haldex style four-wheel drive chassis. As previously described, AMG is confident it's got around the 'reactive' style of power distribution usually associated with such systems and Moers and his team has been working hard to ensure the kind of response and, yes, sideways ability for which AMGs are known. Up to a point of course.
Halving the traditional cylinder count is a huge emotional leap for AMG of course, the seven-speed dual-clutch transmission at least less of a question mark for a brand that's only ever offered self shifters. Downsizing it may be but if lacking in displacement the new engine hits back with an astounding 180hp per litre specific output, 0-62mph coming up in 4.6 seconds and top speed limited to 155mph. With, of course, 39.7mpg and CO2 of 165g/km.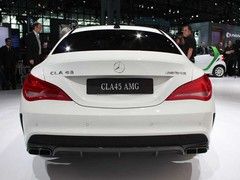 Squint hard and it could be a CLS63...
In the flesh the AMG additions - traditional quad exhausts included - bulk out the slightly under-wheeled lines of the base CLA and as conventional market boundaries blur and the tuning division breaks into new sectors the CLA45 is the car to do it, especially in a market where hot hatches are still a novelty. Will American AMG customers buy into turbo four-cylinder saloons though? Stateside AMG product manager Rob Moran says yes, the sub-$50,000 price point at least $10,000 less than the existing 'entry level' to the brand, the C63. And accessibility to an AMG for a new, younger wave of customers is, reckons Mercedes, the way to guarantee a steady flow of customers further up the range into the V8 cars.
Gassing Station | General Gassing | Top of Page | What's New | My Stuff