Monday 19th May 2014
SVM Qashqai R hits the strip!
The Qashqai with a GT-R engine gets timed at Santa Pod. It's quite quick
---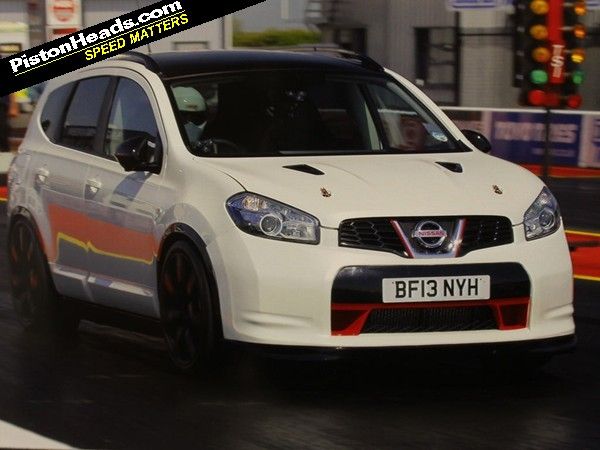 Despite being lodged in drag racing folklore, everyone knows a 'ten-second car' is a very fast one. A standard
Porsche 918 Spyder
will cover the quarter mile in ten seconds flat, for example. And now there's a Nissan Qashqai that will (just) go faster still.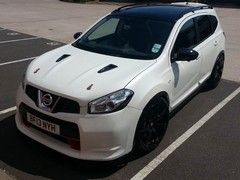 Still look like a Qashqai (mostly)
Alright, it's very far from a standard Nissan crossover. We've followed
SVM's Qashqai R
throughout its build to completion and now it's been sent to the drag strip to get some performance figures. They are fairly extraordinary if not totally surprising given its 1150hp output.
It hit 62mph in 2.7 seconds and 124mph in 7.5. For reference a McLaren 650S reaches 124mph in 8.4 seconds. The quarter mile time was 9.9 seconds with a terminal speed of 144mph, a time that matches a Bugatti Veyron SS when tested by Road & Track. The Qashqai R also posted a 30-130mph time of 6.8 seconds; by any measure it's seriously fast. SVM believes it has now built the world's fastest SUV, so is there anything quicker out there?
With the transformation from 1.6-litre Qashqai to supercar slayer now complete, SVM is selling BF13NYH. The price is £275,000, which is either hideously expensive for a Qashqai or great value for a one-off vehicle capable of accelerating faster than much costlier cars. Don't forget too that three passengers can come along in air-conditioned comfort, admiring the world through a panaromic roof and sat in a GT-R cabin a little higher up. Wonder what the insurance will cost?
[Sources: SVM, Road&Track]
Gassing Station | General Gassing | Top of Page | What's New | My Stuff