RE: Noble fastest in Goodwood supercar shootout
Monday 29th June 2015
Noble fastest in Goodwood supercar shootout
Anthony Reid brings British supercar maker bragging rights at the Festival of Speed. Again.
---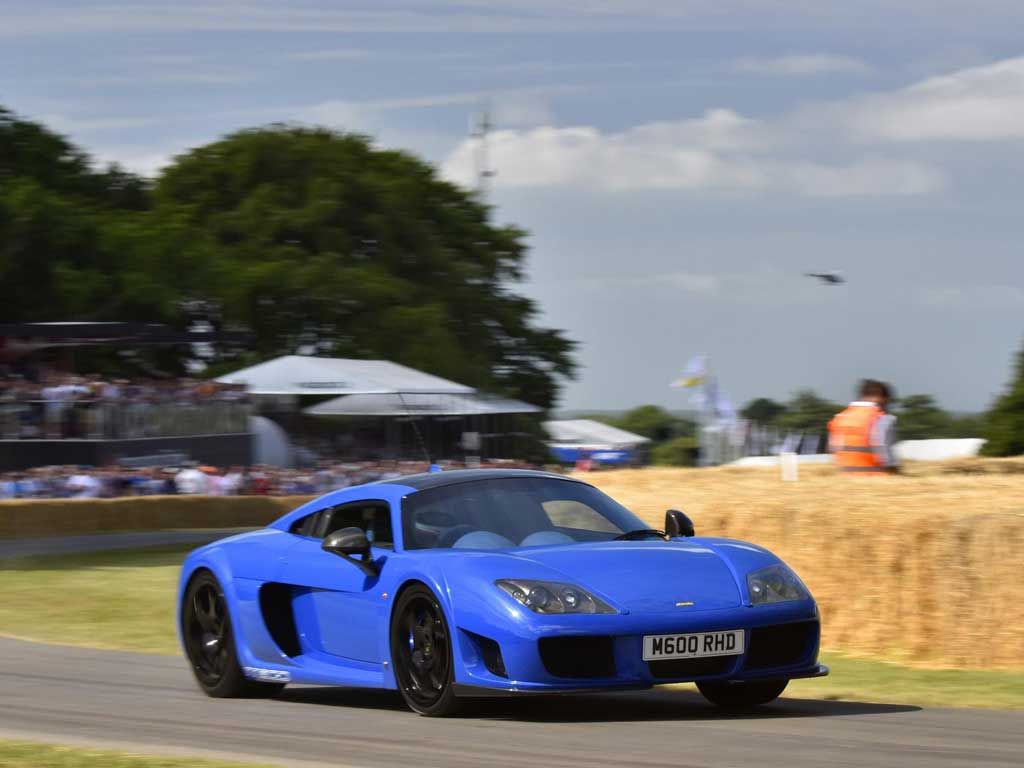 Even regular visitors to the Goodwood Festival of Speed can find it difficult to keep track of exactly what's going on, and with the combination of timed and untimed runs on the Hill course it's often very hard to know who has gone fastest.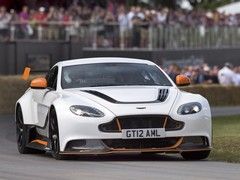 Glorious noise, but a way behind the Noble
This year there was a separate timed shootout on the Saturday independent from the overall timed shootout of the very fastest cars that traditionally ends the Festival on the Sunday. This gave a good chance to gauge both the relative performance of some modern road cars, and also the size and clankiness of the trouser furniture of those charged with driving them up the narrow course.
No surprises that the name on the top of the Supercar Shootout times list was Anthony Reid. In recent years the former touring car driver has become almost as well known for his exploits on the hill at Goodwood as his other racing activities, and is as close to a specialist as the place gets. His 51.33-second time in the Noble M600 was properly impressive.
But so was Chris Ward's performance in the Lexus LFA, finishing just 0.78 seconds behind in 52.11. Matthew Becker was a further three seconds adrift in the Aston Martin GT12, here making its moving debut. And, further down the order, full credit to German touring car veteran Joerg Weidinger who managed to hustle the considerable bulk of the Rolls-Royce Wraith up the hill in just 57.21 seconds, going sixth quickest.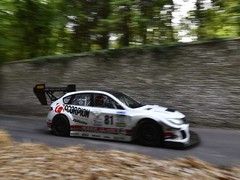 Fastest of fastest. Wing may have helped
Further perspective arrived on Sunday with the overall timed shootout, which saw Olly Clark set FTD in his 780hp 'Time Attack' Subaru Impreza, posting a storming 44.91-second time. Two Pikes Peak cars finished second and third: Jean-Phillipe's Dayraut's Mitijet Mini managed a 45.51-sec run and Goodwood favourite Rod Millen's Toyota Celica posted a 45.80-sec time.
All this that Nick Heidfeld's overall course record of 41.6-seconds, set in a McLaren in 1999, remains safe for at least another year...
Overall times, Michelin Supercar Shootout
1. Anthony Reid, Noble M600 - 51.33
2. Chris Ward, Lexus LFA - 52.11
3. Matt Becker, Aston Martin GT12 - 55.06
4. Henry Catchpole, Porsche Cayman GT4 - 56.86
5. Andy Meyrick, Bentley GT3-R - 56.91
6. Joerg Weidinger, Rolls-Royce Wraith - 57.21
7. Tom Mills, Maserati GranTurismo MC Stradale - 59.00
8. Stephen Kane, Bentley Continental GT - 60.65
9. Steve Mills, Maserati GranCabrio MC - 60.66
10. Gordon Robertson, Porsche 918 Spyder - 61.37

Gassing Station | General Gassing | Top of Page | What's New | My Stuff