In the awesome S1 Exige rebuild thread on SELOC (George in NZ rebuilding an S1 Exige from ground up - well worth reading as it's incredible, awe-inspiring stuff), he mentions that instead of saving 6.5 kg by installing an aluminium fuel tank, he was going to save 6.5 kg later by swapping the standard battery for a 'lightweight battery'.

What's the deal with this? I know that normal batteries weigh a lot, and I'm assuming that Lotus stayed cheap and reliable by using a normal battery like the ones available in Halfords (lead acid). I'm assuming there's a typical battery in the back of my Exige too (otherwise it wouldn't start very easily). Now these batteries are usually 10-15 kg, right? Probably nearer 15 kg (does anyone know the exact weight?)

Saving 6.5 kg by changing a battery sounds like an impressive reduction that's very easy to do, no? So why isn't it a very common suggestion on the forums for those wishing to reduce weight without compromising comfort? Are the 'lightweight batteries' much lower capacity and less functional? Lead-acid is a pretty old, well-proven technology but I'd guess a decent lithium ion battery could provide the same capacity and rechargeability at a much lower weight. I know the raceboys use Varley (sp?) red top batteries, not sure what technology they use but they are purportedly much lower weight, but also lower capacity IIRC.

Another issue in the boot of an Exige is the actual space taken up by the battery - it's not an insignificant proportion of the boot volume in my car, and a new technology battery that was half the size would add a boot space benefit as well as a weight benefit.

So what are these lightweight batteries - are they a practical, direct-replacement option to lose some weight and add some boot space? Automotive use of lithium batteries is surely fairly mainstream now there are loads of Toyota hybrid 'vehicles' around...

Cyberface, Glad to see you're getting some useful information out of that thread

(it's replicated on here too).
I did this conversion in my S1 Elise when I had it after my standard battery packed up, as I said I'll be doing this conversion on the Exige.
I got my battery from "Battery Town" here in NZ which is a car and industrial battery supplier over here. Their website is
www.batterytown.co.nz
and the battery I specifically went for was a SLA-AGM (Sealed Lead-Acid - Acidic Glass Mat) battery, they supply the "Synergy" brand, but I know big international companies like Yuasa also do similar products. On this page
www.batterytown.co.nz/sla_agm.htm
, the one I went for was the A12-18 (12 volt, 18 amp-hours battery). This is a non-vented, sealed lead-acid battery where the acid is saturated into a glassfibre matting inside the battery.
As you can see the battery is 4.9kg compared with the standard Elise battery which I think is just over 12.
This battery is the sort they use to run computer UPS modules and the "S" (cyclic) version is used in golf carts and mobility scooters (as part of a bank usually). I calculated 18 amp-hours as being what's needed to sensibly run an Elise that doesn't have a lot of electrical gizzmos.
Bear in mind that to meet type approval, a manufacturer must factory-fit a battery that will start a car both in the desert heat and in wildly subzero temperatures after a period of time. Given that my Lotuses are (as you might have guessed) rather prized and pampered, they will never realistically need to perform in these conditions. You might want to move up a size or two if you've got more goodies on board (satnav/ top-end ICE, leccy windows, aircon) but for an S1 with a basic-ish (non-amped) stereo and the Cobra alarm it seemed to do the trick in the year I had it installed and continues to do fine duty for the new owner a further year down the track. As I'm aware it's done many hundreds of cranks and never once failed to start.... when the new owner (who was also the original owner of the car) got the car back, he commented that in the 6 years he originally owned it, he went through 2 new batteries, so it would seem that the real performance of the A12-18 isn't so bad. Add to that that when you DO have to replace it, it's a doddle as you can get the battery out without non-surgically removing your fingers!
Bear in mind that after a week with the alarm set, the engine becomes slow to crank and after about 2 weeks you'd be lucky to start it (with the A12-18) so I wired in a harness to quick-connect an intelligent, cyclic charger (similar to what you guys have over there as an accumate/optimate?). Whenever I knew the car wasn't going to be used for a week or more, I'd just plug it in and leave it connected and it was always as fresh as a daisy.
The only other thing I had to do was to fabricate up a new battery bracket to hold the smaller battery in place. I did this by laying up a fibreglass captive "cap" and bolting that to the OEM bracket, which made a tidy job of it.
Pics of the A12-18 battery in place below (in the front compartment of an S1, obviously):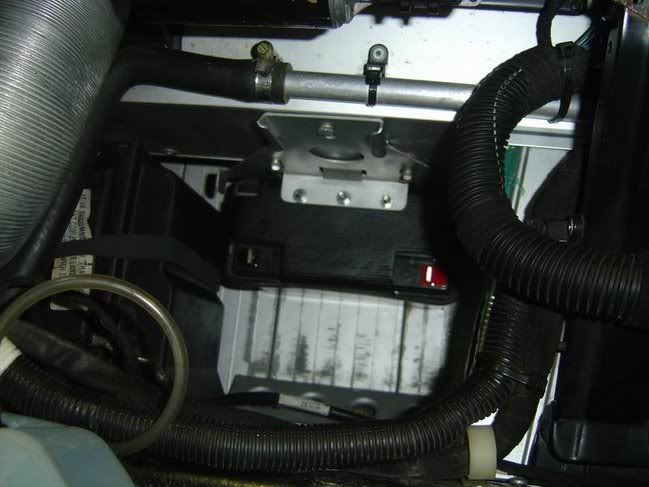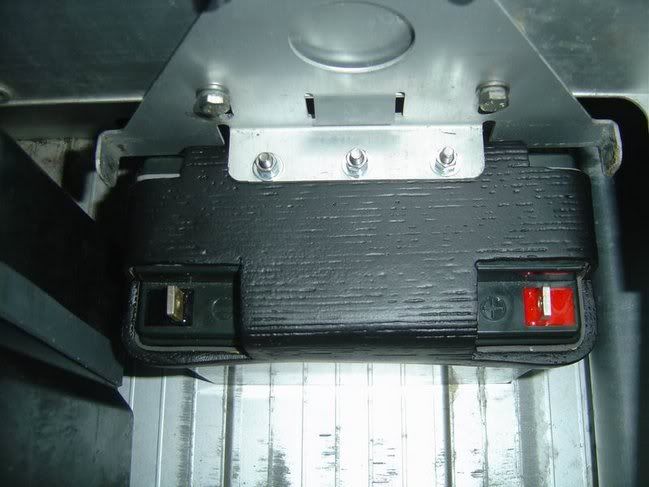 In summary I'd say that if your Lotus is a weekend/summer toy, then go for it, it's a great mod that saves a shedload of weight and (at least in the S1) makes the battery MEGA easy to replace compared to OEM. I'd be cautious though if you use the car year-round as a daily driver and you need to start the thing out in the snow after sitting for a few days and rely on the car for transport. Certainly it's a mod that I found VERY worthwhile and as I said, I shall be doing it again early in the new year and it will be appearing in my "Rebuild" thread when I get around to it

Edited by Esprit on Thursday 18th December 23:17
Heh - that's excellent. I have had the 'pleasure' of replacing the battery in my old VX220 turbo (in the front, under all the loom, like the S1)... took myself *and* an AA mechanic an hour in the pissing rain. He wasn't best impressed with the car at the end of the job, I ended up giving him a big tip to buy some beers that evening as we both ended up with badly cut knuckles and fingers...
I've got the Touring pack on my Exige and it's got a bunch of electrical toys, though I don't do stereo systems in Lotuses so no amplifiers or any other large-current devices. The aircon is pneumatic, isn't it - draws crank power but not electrical (glad to be corrected on this). I guess the biggest problem would be lights when the engine is off... once the engine is running, the alternator ought to supply enough electricity to cope with most things.
That said, I don't live in as nice a climate as you, and I don't own a garage, and I'm not best known for 'pampering' cars... so starting the car when subzero is a regular occurrence (and has been over the last two weeks)... whether the tiny race battery would deal with that, I don't know. I know the Exige only has a baby engine but 18 Ah is a lot less capacity than the typical 60 Ah.
Anyway, I've just come back from a great trackday at Brands and it's utterly clear that I don't need any modifications, the car is plenty capable enough as it is - just upgrade the nut behind the wheel and all will be good

Thanks for replying George in typical thorough fashion - you are doing one hell of a job on your car and hopefully it'll inspire others to keep these cool S1 Exiges on the road and track. It's going to be awesome and, crucially, stay that way for a long time (that POR15 stuff looks the nuts...)

I got a same spec battery for the k-series engine in my R400, sorry not elise! It was a 90AH i think, from Lucas, same dimensions and lugs etc, and it came in at 7kg. It was from a small ride on mower. Anyway used it a lot over the season and it worked perfectly.Cost around 40 quid
Edited by sam919 on Sunday 21st December 07:45
Gassing Station | Elise/Exige/Europa/340R | Top of Page | What's New | My Stuff