Wednesday 16th March 2011
New BMW M5 Struts Its Stuff On The Snow
Teaser video whets our appetite for new BMW super-saloon
---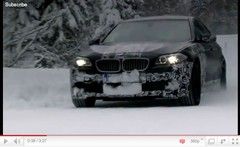 BMW is stepping up its teasiness with the new M5, before the car is officially revealed later this year.
A couple of weeks ago the first video was released, with M division Boss Dr Kay Segler saying 'I exactly know that you all wait for the new M5' (no kidding, Kay) and a few short moments of an M5 in pre-launch camo doing its 'thang' on the snow.
Now BMW has released a second, longer clip and, while you'll need to speak German to get the most out of it, it does provide plenty of time to gawp at the new car's details, and to enjoy watching the thing being hustled through the snow.
Oh, and it might just offer an insight as to whether the new car will get a twin-clutch or fully automatic transmission. There is a brief glimpse in the video of the gearstick - which appears to be an M-DCT-look affair rather than the pistol-grip joystick BMW's get when equipped with ZF's eight-speed auto. It's not conclusive, but it is encouraging... check it out for yourself below...
Gassing Station | General Gassing | Top of Page | What's New | My Stuff