I used to live in Islington and my commute to the office was short enough to walk; life in The Smoke was still a novelty and the stroll offered plenty of chance to soak up the atmosphere. On the route I'd regularly see an old gent smoothly piloting his immaculate, black Bentley Continental S2 coupe through the mayhem of central London traffic, seemingly oblivious to the chaos around him and apparently protected by a force field of sheer poshness.
Anyway. That's probably the kind of spirit Bentley wants to channel with the modern-day Continental GT, even if the reality - or stereotype - is less black tie and more fat footballer's knot. There you go - first box ticked on your 'cliches to use when writing about Bentleys' bingo card.
Would a properly posh person like my mythical London gent drive a Bentley like this though? In a demonstration of how colour sensitive a car like the Continental can be I'd say in this case possibly yes. Which comes as a surprise because Bentley has to strike a fine balance between catering to the more ... extrovert tastes of some of its customers with those traditions that underpin its heritage.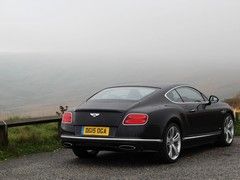 Does this look more assertive to you?
New thing, same as old thing
The Continental GT range was updated
a little later in Norway. With help from a man called Thor. It's always good to drive a car on its home turf though and when choosing a model to evaluate it's only natural the PH gaze would land on the one called Speed. Which, with a bona fide 200mph-plus vmax, is a badge it most certainly lives up to.
Saying that the updates didn't have a huge impact on the Speed, the main changes coming to its 'junior' W12 brother to put a little ground between it and the upwardly mobile V8 S. A tickle of the W12 from 575hp and 516lb ft to 590hp and 531lb ft puts a very Bentley cushion between the 12-cylinder car and the 528hp, 502lb ft V8 S, the Speed maintaining its seniority thanks to 635hp and 607lb ft of torque. Those are, frankly, quite silly numbers. But if you're going to do it, do it properly, right? It's genuinely unapologetic too, the Speed not bothering with the cursory nod to efficiency concerns introduced to the regular W12. So no cylinder deactivation nonsense and definitely no pretence of caring about reduced CO2 like the standard car. Who are we kidding, and all that.
From the outside you'll more likely spot the updated car's new 'B' trims on the wings than the "more assertive and confident stance" offered by the subtly reprofiled bumper, grille and wings. Yup, because the GT was so shy and retiring before, wasn't it? There are similarly subtle changes at the back too but to casual observers the changes will be hard to spot.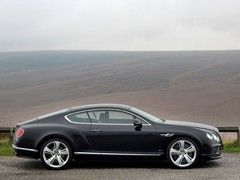 Optional 21-inch wheels sir? £2,150...
Shame more of the budget wasn't spent on the interior, which remains an odd mix of the ludicrously opulent - see £820 extra for linen stitching on the quilted leather - and the surprisingly plebian. Ready with that bingo card again? Yep, it's the motoring journalist's obsession with pointing out 'parts bin bits from cheap car lurking in expensive one' time! Nothing characterises this more than the slip of the fingers from solid, wand-like aluminium shifters to generic, plasticky column stalks.
Joking aside when you move from bang up to date rivals like the Mercedes S-Class Coupe the Bentley does rather feel its age. With a £183,075 starting price and 630hp twin-turbo V12 in S65 AMG form the S-Class Coupe is a very real threat to the Bentley and, while it might not have quite the status, in terms of technology it's from another age. Ditto in cabin quality and seemingly unimportant stuff like switchgear and navigation graphics folk spending this much on a car have a right to be a little sniffy about.
A couple of uncharacteristic wobbles presented themselves on our test too, including a £5,695 Naim for Bentley stereo system that stopped working and some overly cautious interventions from the radar cruise control that then rendered it unserviceable until the car had been turned off and back on again. Which sounds petty until you have to rely on self-discipline to keep a 635hp Bentley reined in to a quarter of its top speed through a 20-odd mile section of 50-limited M1 roadworks. Oops, are we really doing ... oh damn.
Is there enough indefinable 'character' thing to overcome these concerns though? To an extent.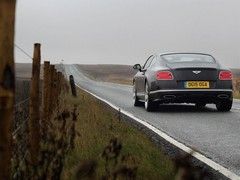 That horizon isn't far off with 635hp!
The W12's rumble is bassy enough to rattle the china in the east wing on tickover and, with the knurled gearstick in manual or Sport setting, able to do funny things to your tummy. There's cubic capacity enough that the motor never feels off-guard at any point but a combination of two-tonne plus weight and a degree of turbo lag means the Speed element, when it comes, arrives in a thrilling rush of mass-defying might that never gets boring. Just, perhaps, a little frustrating. Because even a fleeting taste of it is enough to put very, very naughty numbers on the speedo.
There are nods to modernity like four-stage damping adjustment for the air suspension but, frankly, once fiddled with you'll likely never press the button again. It's safe to say the Speed rides with appropriate authority, with everything from primary waft to secondary isolation from ridges and bumps flicked aside disparagingly. It's a more assertive car to drive than the comparable Rolls-Royce Wraith and more encouraging of being hustled along rural roads big enough to accommodate its bulk. But, really, its limits are so beyond what you'll reach at road speeds it's more a case of enjoying occasional deployment of that outrageous horsepower than nibbling up against the limits.
So if the Wraith maintains a sense of regal detachment and the S-Class Coupe engages with the modern age of gadgets, the Continental GT has evolved from new money plaything into a slightly caddish twilight age. Which is, at last, very Bentley. A new one is on the way and, inspired by the handsome EXP10 Speed 6 Geneva concept, expected to be more assertively sporty, high tech and gadget laden. Like my man in Islington, this one now appears rather from a different era.

---
BENTLEY CONTINENTAL GT SPEED
Engine: 5,998cc twin-turbo W12
Transmission: 8-speed auto, four-wheel drive
Power (hp): 635@6,000rpm
Torque (lb ft): 607@2,000rpm
0-62mph: 4.2sec
Top speed: 206mph
Weight: 2,320kg
MPG: 19.3mpg (NEDC combined)
CO2: 338g/km
Price: £168,300 (£193,340 as tested, comprising contrast stitching to quilted areas in linen at £820; first aid kit and warning triangle £100; Adaptive Cruise Control £2,125; battery charger £95; digital TV tuner £920; Naim for Bentley premium audio system £5,695; rear view camera £945; Wi-Fi hotspot £845; 21-inch directional sports wheels £2,150; ceramic brakes with black painted calipers £10,825 and space saving rear wheel £520)