Mid-way through our tour of Litchfield's impressive parts store and surrounded by machined from billet engine blocks, Inconel intake manifolds and any number of expensive ways to make a GT-R go even faster, I get a small insight into GT-R world. "We say about 800hp is about a sensible level," muses Iain Litchfield. "Beyond that you're just chasing issues around the car so that's about the limit if you're going to keep the standard transmission and other bits." 800hp. Sensible. In a car already more than capable of doing strange things to your innards under full bore acceleration with its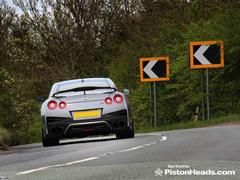 Just the 100hp added for this tuned GT-R...
I still don't understand what motivates people to do this. Other than they can, relatively easily. And if that keeps clever folk like Iain in business then hurrah for that.
After 20 years in the game, Litchfield and his team know what they're doing. Not least about how fashions can change, the Subarus they so exhaustively and successfully re-engineered now a fad that's all but passed. The GT-R is proving more resilient but, wary of having all his eggs in one basket again, Iain is diversifying into tuning packages for Porsche, BMW, Audi, Ford and more.
Saying that, if there's one car on which to pin the company's 20th birthday celebration it had to be the GT-R. Hence this - the LM20.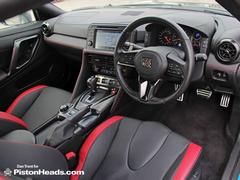 Interior as you were; money has gone underneath
Two numbers stand out, both for their surprising modesty. First is the 675hp power output because, yes, by tuned GT-R standards that's not a huge amount. Then you see the price - £96,995 on the road for a fully warrantied car with extensive modifications and upgrades to the engine, the exhaust, the suspension, the brakes, tyres and bodywork. Not cheap, of course. But when you consider Nissan charges £93,875 for the latest version of the
- a car with over 100hp less - it begins to look like a man maths bargain. More so when you look at the £149,995 charged for the
When the LM20 was revealed at Autosport International it was wearing super-cool Volk Racing TE37s; since then this demonstrator has gained HRE items instead, wrapped in Michelin Pilot Sport Cup 2 tyres. Against the carbon front splitter - properly aero tested - and more aggressive lip spoiler at the back this all shouts serious intent. Can't fault the HREs for the boutique appeal or the quality of their forged construction. But to my eyes a fast Japanese car HAS to have Volks. Or maybe that's just me.
Any doubts that 675hp and 615lb ft - the latter from just 2,000rpm - seem a little undernourished (all things relative of course) are very swiftly dispelled in the first straight bit of road out of Litchfield's headquarters. Torque delivery in particular is much more aggressive than the standard car, the line climbing more abruptly on the graph compared to the stock engine's more mellow curve and 469lb ft peak. This is still a GT-R though, the power delivery most definitely boosty and turbocharged with a mighty kick when things light up. Response is faster thanks to new intakes, higher-flow injectors, new fuel pumps, cast downpipes and a 102mm exhaust system, but that old-school forced induction feel is very much there. And, I would hope, one of the things GT-R owners like.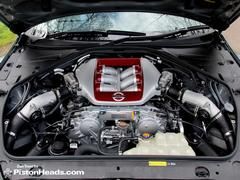 More power, more torque, more noise!
And it sounds ANGRY! Those dismissing turbo engines as one-dimensional in power delivery and monotone in sound need to have a go in an LM20. Under acceleration it's all exhaust noise, a fearsome howl that gets seriously intimidating as the revs rise. Whooshes and hisses are there when you lift off too but there's no childish dump valve nonsense here, just a sophisticated and thrilling soundtrack to acceleration that leaves you feeling a little punch drunk.
Like all GT-Rs it thrives on revs too, pulling hard all the way to 7,000rpm. OK, I'll concede. I'd be happy with a standard GT-R. Or, rather, I would have been had I not driven this. On this brief encounter 675hp seems entirely sensible. I guess this is what you call the slippery slope...
Given where it's pitched against the factory GT-R range you'd be happy thinking the engine work was sufficient for the money. But the LM20 impresses not just for the outright performance but also for the fact it's a complete package. Suspension work includes new and custom tuned Bilstein Damptronic units to replace the stock Nissan-supplied items. NASCAR-spec springs up front are nearly 50 per cent stiffer and, in combination with a burlier rear anti-roll bar, the rear axle's settings have been dialled up too. Litchfield also fits its Handling Kit, comprising CNC machined blocks that alter the bushing placements and tweak the geometry for more stability and increased steering feel. But there's a wider range in the dampers too, so it's not all about track-focused brutalism.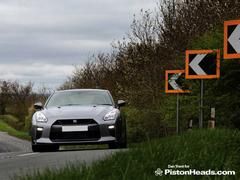 Track focused, but immense on the road too
Indeed, on the bumpy local roads Litchfield uses for testing you there is both more weight and authority to the wheel and confidence inspiring feedback in place of the tramlining you sometimes get. The whole
thing is a common criticism thrown at the GT-R but in fact its hydraulic set-up is beautifully weighted and wonderfully predictable even out of the box. And even better here, the LM20 having more of the 'on the nose' sense of adjustability you get in the NISMO cars. A 911 Turbo S has nothing on this in terms of feel or playfulness. And even for the ramped up spring rates you can actually drive the car in R mode, should you so wish, and not feel like you're being unnecessarily punished, the LM20 riding with flow and authority even on bumpy and oddly cambered B-roads.
Then there are the brakes. 400mm rotors up front, Alcon calipers, braided lines - it's all quality kit, clearly chosen by people who really understand what they're doing and what's required when you start making a car like the GT-R go so much faster. Let's not forget, this is now a bona fide 200mph-plus car, a figure none of the stock GT-Rs, NISMO included, can claim. OK, it's of symbolic importance. But important nonetheless. As is a nice, solid brake pedal with confidence inspiring power under the ball of your foot.
All sounding good, right? Well, it is. But you need to be quick if the idea of a complete package GT-R like this appeals, given that the '20' in the name refers to both Litchfield's years in business and the production run of this particular model. All the parts and expertise that go into it are, of course, available to build into your own upgraded car. But there's something rather nice about seeing it all offered upfront as a standalone piece of work. This really is quite the machine.

---
LITCHFIELD GT-R LM20
Engine: 3,799cc V6 twin-turbo
Transmission: 6-speed dual-clutch auto, four-wheel drive
Power (hp): 675@6,800rpm
Torque (lb ft): 615@2,000rpm
0-62mph: 2.5sec
Top speed: 203mph
Weight: 1,752kg* ('minimum' kerbweight with fluids but without driver)
MPG: 23.9mpg* (NEDC combined)
CO2: 275g/km*
Price: £96,995
*Official figures for standard MY17 GT-R