What's new? What isn't? This is the new Rolls-Royce Phantom and, given it replaces a car that arrived 14 years ago, you'll be unsurprised to learn that it has been given quite the going over.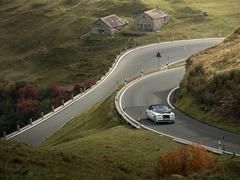 It's meant to be the best car in the world, after all, in that old-fashioned way of judging things. Y'know, the kind of criteria by which Blenheim Palace is the best house in the world, because the heating bill and the amount of lawn mowing doesn't really matter.
So Rolls has created a new platform, a flexible - in design, not stiffness terms - aluminium spaceframe that'll underpin all new Rolls-Royces after this. No more upscaled BMW 7-Series platforms for the 'lesser' models; every Rolls will be a Rolls.
But none more so than the Phantom, the eighth model to wear the nameplate since the mid 1920s and destined to remain the boss, even after the introduction of the upcoming Project Cullinan SUV.
The new metal is 30% more rigid, torsionally, than the outgoing Phantom's platform, rising to 100% in key places. The body-in-white is also a bit lighter, though only "accidentally", and the addition of new features - plus things like 130kg of soundproofing - means that the new standard-wheelbase car still weighs more than the last one, despite being a bit shorter.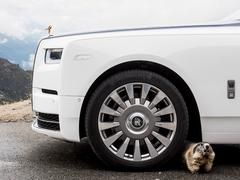 ...Helped by 2kg of sound deadening in each tyre
Tick the Extended Wheelbase option and you get 220mm more in the wheelbase, which all goes into rear legroom. The length goes from 5,762mm to 5,982mm, kerbweight goes from 2,560kg to 2,610kg and the basic price goes from £360,000 to £432,000, although plenty of buyers will spend a million. 'Cos why not, right?
All of which takes a bit of shoving along, so there's a new engine. It's still of 6.75 litres but is, effectively, a stroked version of the 6.6-litre V12 from the Rolls Ghost, the mere 5.4-metre long saloon, because even BMW isn't going to develop an entirely new engine for one offshoot, no matter how regal.
There are two turbos, and lengthening the stroke is all about increasing torque, which seems to have worked. Power, at 570hp, is the same as the Ghost's, but torque is up to 664lb ft at - get this - just 1,700rpm. Phillip Koehn, Rolls' engineering director, wants as much torque from as few revs, as possible. Peak power is made at 5,000rpm and the engine will rev to 6,500, but anything beyond 2,500rpm is "outside its operating range" unless you're on it. Which you're unlikely to be. Mostly the eight-speed ZF auto shifts up at barely 1,500rpm, although there's no rev-counter to tell you that.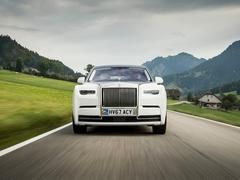 Outside, then? Well, you decide. I quite like it but fear I'm in a minority. It's pretty colour sensitive: it can either look ostentatious or
, but it's a Phantom, so that's kinda to be expected.
So is the level of opulence inside: carpets so deep they'll tickle your ankles, hectares of leather on seats that are flat in the front, absorbent in the rear, and enough wood to keep an Islington log burner going over the winter. Less expected is the new 'gallery' feature, a sealed glass case on the dashboard, which you can have adorned with pretty much whatever you like, and which the infotainment screen pops up into.
The entertainment and nav systems are Rolls-fronted BMW systems, as you'd expect. Rolls can pick from the lot, but avoids anything semi-autonomous for the moment, because Phantom buyers aren't fussed; if they don't want to drive, they have somebody who will.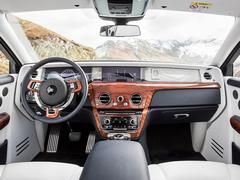 Some things may be a little familiar in here
But it's reckoned that surprisingly often they quite like to drive themselves, which is quite a rewarding experience. Albeit a near silent one. The Phantom is so quiet that even at 40, 50mph, the loudest thing in the cabin is your hands moving on the steering wheel. The steering's light - electrically assisted, now - and mates with other controls perfectly. Rolls didn't just use its own engineers to tune the dynamics and controls, they also employed some chauffeurs. Despite the vast girth, there are few easier cars to drive smoothly, and it comes easily, naturally, the thing you want to do.
The ride's impeccable, too. There are air springs - bigger air chambers than on any Rolls before - and soft tyre sidewalls; the tyres use Continental's 'ContiSilent' tyres, which each have 2kg of sound absorbing foam round the inside of the tread area. Increases the unsprung mass but, hey, the body's pretty heavy anyway. To keep that in check there are adaptive dampers, though no different 'drive modes' to put them in, for which we should be thankful, and active anti-roll bars, slack around straight ahead, firming up in corners to keep body roll and movements in check. There's rear-steer now, too, adding up to 3deg of opposite lock at manoeuvring speeds, converting to stability-enhancing same-way turn at higher speeds, but it'll usually operate only in tenths of degrees.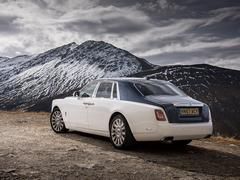 No, those aren't off a Fiat 500
There's quite a lot going on, then, technically, so it's to Rolls' credit that it all hangs together so naturally. There's only, very occasionally, a lateral shimmy, that kind of reverb that air springs sometimes give over repeat small surface imperfections, but you have to want to notice it to notice it. Likewise the rear steer and EPAS are usually perfectly in tune, but sometimes, when set on a cornering line, don't wind themselves naturally off it.
Small points, though. Not even niggles. Not even those with the most exacting standards could argue that this wasn't an outstanding car. Best car in the world? You can debate the context of that, whether there's 'better' engineering in a £10,000 city car or £30,000 hot hatch than a £400,000 luxury car. but it's certainly the most luxurious, the quietest, the most opulent, and that was the remit. The Rolls-Royce Phantom, once again, utterly defines luxury.
---
ROLLS-ROYCE PHANTOM VIII
Engine: 6,749cc, V12 twin-turbocharged
Transmission: 8-speed auto, rear-wheel drive
Power (hp): 563@5,000rpm
Torque (lb ft): 664@1,700rpm
0-62mph: 5.1sec
Top speed: 155mph
Weight: 2,560kg
MPG: 20.3
CO2: 318g/km
Price: £360,000