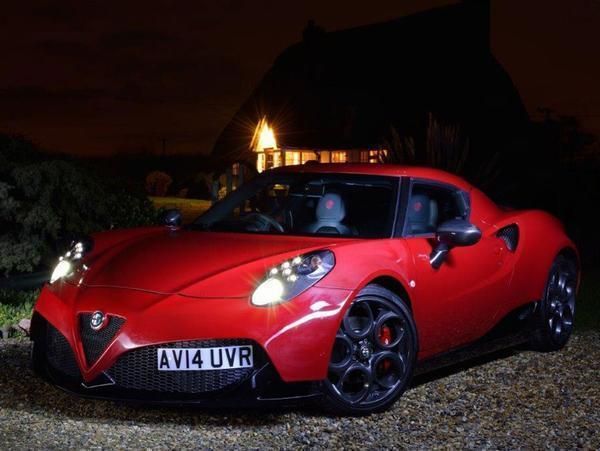 There's a lot to like about the
Alfa Romeo 4C
. It's got the looks, the heritage is suitably evocative, a carbon tub at this price is a stand-out feature and the concept of a lightweight sports car that focuses on real world performance is to be commended.
But it doesn't take long in the standard car to get a sense the factory settings leave the car wanting, even a few updates. Thankfully Royston-based Alfaworks has taken matters into its own hands and developed a package of modifications intended to unleash the (hopefully) latent potential.
We haven't driven the car ourselves yet, but we know someone who has and speaks very highly. Full story on that in due course. First, let's look at the package Alfaworks has put together.
Described as "a fast road/track version of the Alfa Romeo 4C" and badged as the GT4C, the Alfaworks car tackles common complaints levelled at the standard car, including excessive camber sensitivity and steering kickback, brittle suspension and a dull exhaust note.
Revised front suspension geometry modifications were an obvious first point to address and Alfaworks has already applied its revised settings to over 40 customer cars. For the GT4C it goes further, with uprated rear suspension arms to maintain consistent grip on the rear axle and a fully adjustable Ohlins Road&Track based spring and damper package. This includes ride height adjustment and lets Alfaworks set the car up to the needs of each customer.
Performance gets a boost in the shape of an ECU remap to release 280hp and 310lb ft, healthy increases from the standard 240hp and 258lb ft. These gains are vocalised by a new resonator-equipped Quicksilver stainless steel exhaust to dial out the drone. Lightweight OZ Alleggerita wheels (17-inch front, 18-inch rear) with Toyo R888R tyres help reduce unsprung weight and increase grip, while Ferodo DS2500 brake pads and braided hoses aim to improve stopping power and pedal feel. Proven kit and popular among track day types, it all sounds like sensible fettling to us.
Completing the package are some styling upgrades, including a carbon front bumper and splitter and side skirts with bigger cooling intakes. A more potent and decidedly more track focused version is in development too, Alfaworks talking of a full cage, hybrid turbo, carbon ceramic brakes and an engine capacity increase to 2.0 litres.
You may well be asking 'how much' by now; the Alfaworks website offers a sense of the cost of the individual upgrades but the price for the complete GT4C package (complete with build plaque) is yet to be confirmed. We're promised an update on that in the near future - look out for our first drive very soon.
[Photo: Andrew Scott Photography]