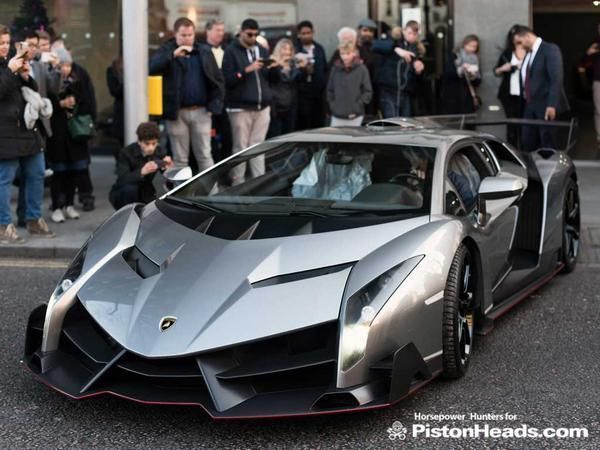 In 2013 Lamborghini announced the
Veneno
to celebrate 50 years of the Italian supercar manufacturer. The car is named after a fighting bull that infamously killed celebrated matador Jose Sanchez Rodriguez in 1914, and is based on the Aventador with power increased to 750hp. However, with an asking price of 3m euros (plus tax), and only four coupes in existence, the Veneno is more than just a special edition Aventador. Only three individuals were deemed worthy of owning one, leaving the fourth prototype car for the factory.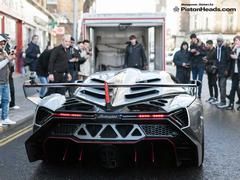 Since 2013 that prototype, car zero, has for the most part sat in the Lamborghini Museum in Italy. That was until December, when out of nowhere it arrived at Lamborghini London! Never before had a Veneno been to the UK, but to celebrate a strong year of sales the dealership was gifted the car to display over the Christmas break.
This allowed the dreams of many who had thought they may never see a Veneno to come true, myself included. I was lucky enough to see the car on the road not once, but twice, as it went in and then out of the dealership upon arrival/departure. I've never seen a car in London or anywhere else cause such a commotion, and rightly so!
That's not to say the car didn't have its flaws. The prototype car clearly was just that, a prototype. The front headlights weren't production spec, the plastic of the rear lights was cracked, loose wiring was visible in the passenger footwell, the key could have been confused with that of an Audi A3, and the tired leather in the seats had clearly accommodated a lot of bums over the past three years. While it was driving it just sounded like a broken Aventador for the most part, other than when revved hard which admittedly sounded truly incredible.
OK, so it's basically an incredibly overpriced, less practical and - some would say - less attractive Aventador SV. But for those who consider supercars a spectacle it's the dream of what Lamborghini stands for made real. Hardly surprising then that the night it arrived a customer offered £5.5m for it, only to be turned away!

---
PistonHeads Social Media Manager Dafydd and I found ourselves caught up in a Lamborghini Veneno 'mannequin challenge'. All in the name of fun, though hopefully you won't spot us too clearly!
[Source: The Rawkus, via YouTube]