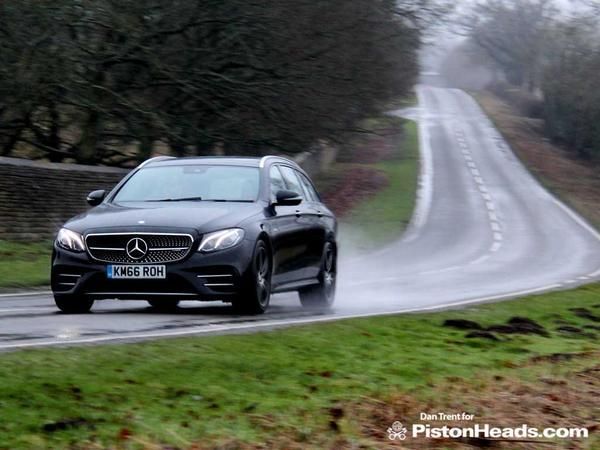 The new twin-turbo V6 powered Mercedes-AMG '43 models aim to plug a gap between 'civilian' Mercedes and the full-blown AMG flagships in the range, much as S-branded Audis and M Performance BMWs do in the line-ups of immediate German rivals. For those who feared this would dilute the power of the AMG brand comes the formidable riposte in the shape of the
612hp E63
- rather it gives the performance division extra headroom to make its V8 product even more mental. Bravo for that.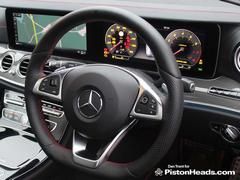 So far we've driven estate versions of
the C43
and
E43
and liked both for their understated looks, strong performance, all-weather all-wheel drive and 'all you'd ever need' mix of practicality and pace. Both, however, have displayed an unpleasant sensation of the front tyres juddering in low speed manoeuvres while on full lock. It's a problem seemingly apparent on equivalent GLC models too, including the non '43 models. And one that's got more than a few PHers reporting in with their own experiences on their cars.
As promised we have been chasing for an official response and a statement has been forthcoming and is reproduced in full below. The official version is that it's nothing to do with the 4Matic all-wheel drive system, despite the sensation being very much like a 'tight' centre diff reacting to different rotational speeds on the front and rear axles when making tight turns. Mercedes says it's tyres struggling for grip in low ambient temperatures.
To be fair to Mercedes we've also felt similar characteristics on the Porsche Panamera 4S diesel we had in on test last week, also in the low temperatures Mercedes says contributes to the problem. It was nothing like as obvious as it was in the C- or E43 though. Nor does it seem to occur in our PH Fleet Audi S4, the car the C43 in particular seems aimed directly at and one that has a comparable performance remit and power output, if a different mechanical layout for its four-wheel drive system. It also has comparably sized 18-inch wheels to the C43, though Audi fits 245/45 tyres all round while Mercedes uses 245/40s on the rear and 225/50s on the front.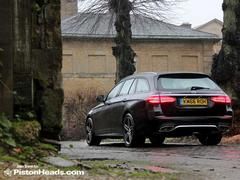 Whether owners will be entirely delighted at being told (we paraphrase...) 'they all do that sir, your dealer will be delighted to sell you another set of wheels with winter tyres fitted' is something we can leave to the thread that will inevitably follow this story. The response to being told it's "a comfort issue" would, having experienced it ourselves, quite reasonably be "too bloody right, that's why I'm not happy."
There is, of course, a more PH solution to this problem. Whether it's indeed the 4Matic system or the tyres you could instead put some of that budget allocated to the extra set of wheels and upgrade to an E63. Simply engage the RWD, ESP off, Drift Mode, let the rear tyres dictate your direction of travel and make your low-speed parking manoeuvres considerably more spectacular and smoky. Maybe AMG could introduce it on the '43 models and rebrand it 'Comfort Mode' and be done with it. Surely it's a 4Matic control unit reflash away from being made a reality... We'd take that over a set of winter tyres for sure.

---
Mercedes-Benz UK statement issued 24/1/17 and reproduced verbatim:
We're sorry to hear that a small number of customers have experienced an issue with certain models, generally at cold ambient temperatures while manoeuvring at low speed with steering lock applied. The experience is of the front tyres apparently 'skipping'. This is a comfort issue, and does not affect the safety or performance of the vehicle.
This characteristic comes from flexibility within the tyre sidewall, the grip between the front tyres and the type of road surface being driven over. It is something which can be felt only at very low speeds, and when a certain percentage of wheel lock is engaged for turning. This is demonstratively more evident in colder temperatures due to the changes in the tyre rubber elasticity.
Winter tyres and all-season tyres on 18- or 19-inch wheels improve this characteristic and we would always recommend their use in temperatures which fall below approximately +7 degrees Celsius. The use of 18-inch wheels with summer tyres also improves the issue.
We do, however, appreciate that is not always possible or practical for customers to fit alternative tyres or wheels, and our technical experts in the UK are investigating alternative ways to help minimise this characteristic.