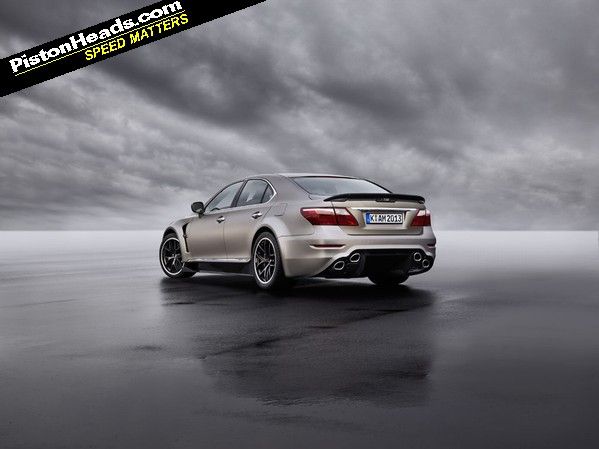 It's clearly the annual 'announce an enormous saloon with a huge V8, forced induction, and slightly bonkers amounts of power' week. If it wasn't enough that Jaguar
officially revealed the XFR-S
last night in Los Angeles, TMG – Toyota's German motorsport arm – has just released the first official full pictures of its fantastically ridiculous Lexus LS hyper-saloon concept, the Sport 650.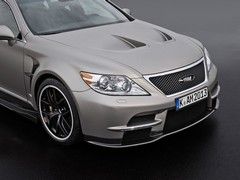 Staid limo now hits 62mph in 3.9secs
We reported last week
that the car was imminent, but even so, we weren't quite prepared for the insanity that was heading our way. The Sport 650 will be powered by a 5.0-litre V8 with two turbos, which will produce 650hp and 565lb ft. That'll be matched to an eight-speed gearbox with three automatic modes and one manual.
It'll hit 62mph in 3.9 seconds, and top whack is expected to be 200mph, or as near as makes no difference. There'll be a TorSen limited-slip diff, Sachs dampers and Brembo carbon ceramic brakes. The BBS wheels will be 20in in diameter, and the rears will be 12in wide. Gosh.
It's not subtle, then, and neither are its looks. Vents, scoops, and carbon fibre addenda all turn the handsome-but-unassuming LS into a boy racer's dream. Whether that's a good thing or a bad thing, we're undecided, but at least the Sport 650 is going its own way, rather than trying to take a leaf out of the 'teutonically understated' book.
There's still no news on whether this will be purely a prototype, or whether the limited production run that TMG is proposing will be given the go-ahead. If it does it'll be based on the newly revealed facelifted version rather than the current model this is built around, but either way it'll create one of the most ludicrous saloon cars ever made, and provide a real rival to the Brabus-tuned S-Class Biturbos.
Now, has anyone else got any hyper-saloons they'd like to announce, or are we done for the week?