When it launched in 2008, the
's turbocharged knockout punch offered a distinctly different approach to AMG and M's higher-revving, naturally aspirated V8s and V10s. The RS's V10, all cataclysmic engine note and peak torque from just 1,500rpm was something very different in character, even if the car itself was a bit of a blunt tool.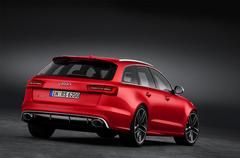 New RS6 will be 100kg than outgoing model
now offer meaty twin-turbo V8s in place of their zingy naturally-aspirated engines, matching Audi's engine tech blow for blow. Time for a new RS6, then – one that drops a couple of cylinders and 100kg, and chucks in a ton of interesting new tech to maintain the old Vorsprung Durch Technik thing.
So it's a return to a twin-turbo V8, like the Cosworth-built one in the first-generation RS6, then. A 'mere' 4.0 litres, the new engine puts induction on the 'outside' of the cylinder heads, while the turbos and exhausts sit inside the V, which should enable faster throttle response. It also shuts down four cylinders when not needed, improving fuel consumption by five per cent and nudging 30mpg (28.8 officially) when trundling along.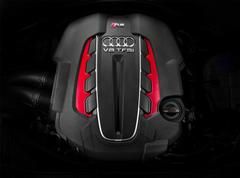 New V8: less power, but more torque than V10
Hang on. Fuel consumption? Sorry. We'll move on to the important stuff. A litre and two cylinders down on the muscular, undersquare V10, the new V8 loses a little in terms of outright power (560hp to the V10's 579), but gains a useful slug of torque (516lbft, compared with the V10's 479). Together with the new RS6's slimming regime, the result is a 0-62 time of 3.9 seconds, making this the first RS6 to drop below the four-second-to-62mph mark. At the top end, there's an electronically-limited top speed of 155mph, though the optional Dynamic package raises that to 174mph, while a Dynamic Plus package will get you a further boost to 189mph.
The new engine will be bolted to an eight-speed automatic transmission, though it's interesting to note that Audi has opted not to fit a DSG box here. The reason for that, Audi claims, is that the work that's been done by ZF on this transmission, and the resultant speed of its shifts, makes it better-suited to the RS6. The proof of the pudding, as they say...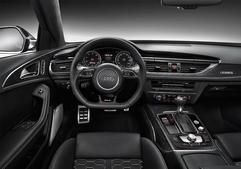 Plush interior includes dash-mounted shift lights
There's another first in the suspension department, as this will be the first RS model to feature air suspension. The adaptive system adjusts itself depending on the driving style and road conditions, and has the ability to lower the body by up to 20mm. If you'd prefer a more traditional suspension setup, though, steel springs and three-way adjustable shock absorbers will also be available.
Inside, there'll be the sort of high-spec interior you'll be expecting from a car like this, featuring swathes of leather and alcantara, unique sports seats, and a raft of toys. One of the more interesting among those will be a driver information system that'll include a shift light, plus displays for boost pressure, oil temperature, gear selected and digital speed.
All of which will doubtless make for a very impressive car. But the real test will be whether the company's chassis men have managed to sharpen up the RS6's dynamics to make it more about the driving experience, and less about the headline figures. Judging by the company's latest new models, there's reason to be optimistic.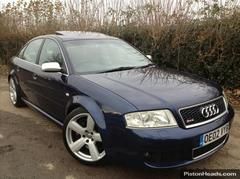 Original RS6 can now be had for under £10,000
Of course, if the £77,000 that Audi will be asking for the new model is a smidge more than your budget allows, a quick scoot through the PistonHeads classifieds shows that older models of RS6 have now depreciated to such an extent as to render them almost affordable. For example, one can find oneself enjoying the finery of an
model for under £10,000 these days. This one, finished in a nicely understated Mugello Blue, has reasonable mileage and main dealer history, too, and seems to be free of any unnecessary aftermarket trinketry.
If nothing but the big V10 version will do, though, you'll have to stretch your budget up to £32,000, for which sum you could be driving away in this example. Again, the mileage isn't ridiculous, and the all-important full history is here, too; the Daytona Grey paintwork seems to be the most common colour, but it does at least add ten Q-car points.