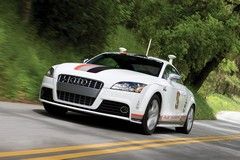 An autonomous Audi TTS developed by VW'a Electronics Research Lab, Stanford University and Audi has completed a run of the Pikes Peak hill climb course (cue bad pun about hairdresser TT drivers now being able to spend all their time looking in the mirror).
The self-driving TT took to the Pikes Peak course back in September and clocked up a time of 27 minutes fro the 12.42-mile course, and nudging a max speed of 47mph along the way.
Now, that might not sound brilliant, considering that a human driver could be expected to take a similar car up the hill in around 17 minutes, but it is a big step towards the experimental car's ultimate target of actually competing on the event for real.