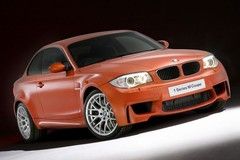 Here it is at last, the BMW 1 Series M coupe, resplendent in Valencia Orange and the latest weapon in the Bavarian firm's attempt to subvert younger new owners into the ways of righteous performance.
Two other colours will be available - Black Sapphire metallic and Alpine White - but hopefully of most interest to potential recruits to the M brand will be the 340hp straight six with twin turbochargers that gives the 1M a power-to-weight ratio of 227hp/tonne.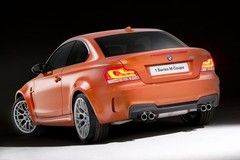 The engine has been lifted, apparently pretty much unmodified, straight out of the Z4 - which if true would make the giant 'Powered by BMW M' label under the bonnet seem a little (cough!) fraudulent. Either way, in the 1 series it delivers significant performance including a 0-62mph time of 4.9secs and a limited 155mph maximum. Gear changes are manual, and the six-speed box comes with a short shift lever to help you punch through the changes during emergency acceleration.
Aside from the distinctive colours, the new M car stands out from the crowd with some equally distinctive body mods. The rear wheelarches are fattened to cover increased track width and there's a rear lip spoiler but the most obviously uprated body elements are at the front. A pair of what BMW calls 'air curtains' are generated over the front wheels by twin cut-outs in the front apron, designed not for cooling, but to reduce de-stabilising aerodynamic turbulence around the front arches. Clever stuff, probably!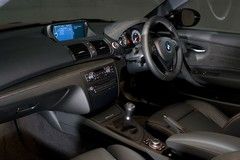 While the engine hasn't benefited from any significant M-tweaks, underneath the car benefits from uprated suspension that is made almost entirely of aluminium. There's a variable M differential lock fitted as standard, and 360mm front and 350mm rear brake discs hidden behind the standard 19ins wheels.
Internally, the car gets its sporty messages across with little touches like leather sports seats with contrasting orange stitching, alcantara bits and bobs and some M badges. The instruments have a unique grey finish, and you get an M footrest and sill panels as part of the spec.
The car goes on sale in May in the UK, priced from £38k which is £13k less than an M3. So what do we think?