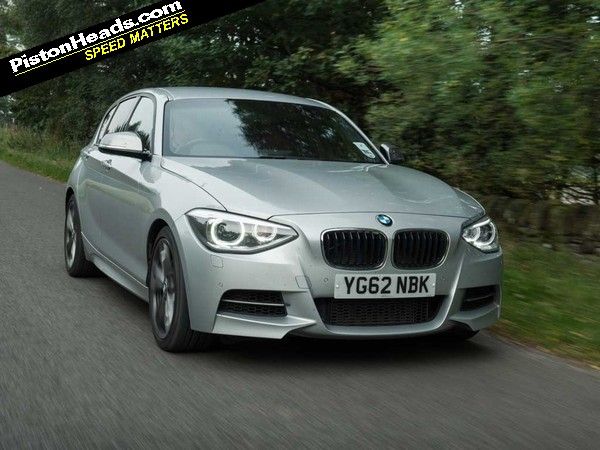 You probably think you've read as much as you need to – probably more than you wanted to – about this car already. But, seeing as we're here and you clicked the link…
Shock news? Against both the Golf and AMG the BMW feels a bit stodgy and lacking in precision. That six-cylinder bark on start-up (prepare the flame throwers but there's a hint of old-school straight-six Skyline about it) and sheer big-lunged punch the additional capacity brings mean it has an easy-going dollop of accessible performance where both four-cylinder cars need winding up. And with that eight-speed auto it's never out of a sweet spot for long, crisp and rapid shifts from the tactile aluminium paddles allowing easy exploration of the engine's broad and expressive power band.
So the powertrain is exceptional, especially at the money many seem to be actually paying to drive out of the showroom.
And up to about eight tenths the 1 Series feels mighty, the thuggish combination of big power, low-set seats and compact dimensions perfectly suited to flowing British B-roads. It even rides well, with decent suspension travel and excellent body control, easy sense of flow and accessible overtaking punch suited to disposing of dawdlers. It's got the classiest interior too, if the most cramped.
But the fat-rimmed steering wheel doesn't have much to say for itself and for all the charismatic power delivery and easy pace the BMW seems reluctant to deliver those final few percentage points of involvement you know must be achievable with these ingredients. In Sport Plus with the dampers stiffer and a degree of slip permitted there's a sense of it but without a limited-slip diff the real magic of the engine and driven rear axle are either electronically curtailed or spun away. And this isn't about fantasy journo land where every second gear corner is tackled on the lock-stops, more that the BMW prematurely calls time just as things get interesting.
Both the AMG and Golf have this self-imposed sense check but offer options beyond it. Attempt to push through it in the BMW and your only reward is a scrappy scrabble of unweighted inside wheel and/or flicker of yellow light on the dash.
Up to that point it's close to sublime though…

---
Introduction and comments
Volkswagen Golf GTI Performance
BMW M135i
Mercedes A45 AMG
Verdict

---
BMW M135i
Engine: 2,979cc six-cylinder, turbocharged
Transmission: 6-speed manual, rear-wheel drive (8-speed auto optional)
Power (hp): 320@5,800rpm
Torque (lb ft): 332@1,300-4,500rpm
0-62mph: 5.1 sec (auto 4.9 sec)
Top speed: 155mph
Weight: 1,500kg
MPG: 35.3 (37.7 auto) (NEDC combined)
CO2: 188g/km (175g/km auto) 
Price: £30,525 (before options)

---
Further reading...
BMW M135i vs ... the world!
BMW M135i vs Toyota GT86
BMW M135i vs Porsche Cayman 2.7
BMW M135i vs Renaultsport Megane 265
BMW M135i vs Audi S3
BMW M135i vs used Porsche 911 Carrera
Photos: PrimeExposures