With the E46 BMW sought to return the M3 to its more focused driving roots, but not at expense of quality - so this version is not only stiffer and quicker than the E36 but far more polished and comfortable too. So there's a real premium feel to the cabin, but a serious edge to the engine and styling too - witness the wide flared arches, bonnet bulge, gaping air intakes and four exhaust pipes.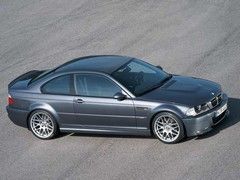 CSL dropped weight, added power
The E46's 3.2-litre six-cylinder motor produces 343hp at 7,900rpm, yet it's super flexible - clever double VANOS valve-timing enables the E46 to hit 62mph in just 5.2 seconds yet pull from 50mph to 75mph in a mere 5.4 seconds in fourth. BMW didn't produce an E46 M3 saloon though, sticking to coupe and convertible variants only - as with the original E30. Both six-speed manual and automated SMG transmissions were available.
2003 saw the release of the much lauded track-focused limited edition M3 CSL. By employing carbon fibre, plastics and thinner glass BMW shed 110kg of weight which - in conjunction with a power increase to 360hp - took the M3's 0-62mph time down to just 4.9 seconds. Sadly though, this was only available with the SMG transmission. The CSL was followed in 2005 by a less edgy M3 CS (Club Sport) model, before E46 production ended in 2006. BMW's UK sales figures show that over 2,500 E46 M3 Convertibles were sold, and nearly 3,000 M3 Coupes. As with the E36, values of the best examples look likely to rise over the next few years - although SMG versions may remain less popular. See here for a full PH buying guide.

---
Buy if: You're after the best all-round M3 deal - stick to a manual though
Don't buy if: You're looking for a future classic (CSL aside)
We found: 2004 BMW M3 manual, silver metallic, full BMW service history, 67K miles, £9,995
Price Guide
Poor: Under £6,495
Good: £6,500 to £11,995
A1: £12,000+
Special Editions: Club Sport £13,000 to £25,000, CSL £25,000+

---