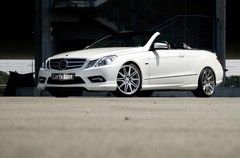 Mercedes tweaker Carlsson has released details of its latest tuning package - for the Mercedes-Benz E350 CDI Cabriolet.
Now, a turbodiesel Mercedes cabrio might not be everybody's performance cup of tea but, at the risk of pandering to gender stereotypes, it would at least provide you with some fast(ish) fun should the Missus insist on one.
A new ECU is at the heart of the changes, bringing a 21 per cent jump in power (to 276bhp) and a similar jump in torque (which goes up to a distinctly chunky 478lb ft).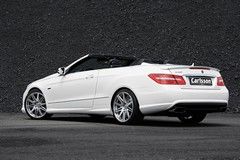 Other optional modifications include a pair of stainless steel tail pipes to give the car a bit of a growl (can you make a diesel sound nice?) and 30mm lowering springs.
Carlsson is also offering a surprisingly tasteful range of body adornments, including a subtle front spoiler and discreet (well, discreet-ish) bootlid spoiler and alloys that range from a sensible 16-in affair to a rather more silly 20 inches.
Interior niceties include a leather-and-Alcantara gear selector, aluminium door accents, suede floor mats, and aluminium pedals.