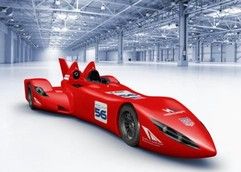 If you're planning a Le Mans trip next year, watch out for a 'low-flying aircraft' mixing it up with the old-school racers.
The radical DeltaWing created by former Lola designer Ben Bowlby was originally mooted as an innovative new Indy racing chassis, but now the Automotive Club de L'Ouest has confirmed a slot has been offered for the car to run at Le Mans next year where it will run in its own class.
"In 2010 the ACO Sporting Committee decided to create the garage #56 to promote new technologies," says ACO sports director Vincent Beaumesnil. "When the ACO Management met the representative of the DeltaWing project everybody thought immediately that it would be a high quality project for Le Mans Experimental entry in 2012.
"The interest of this project is based on the optimisation of all factors that have an impact of global energy consumption and efficiency of the car : weight, power, drag.
"The ACO want to give the opportunity to evaluate each technology, and this project shows that ahead of hybrid, bio fuel or electric technology - we can explore other ways to improve efficiency."
The team behind the DeltaWing project includes Dan Gurney's All American Racers and ALMS-winning Highcroft Racing, so it's got serious credentials.
Specifications
Total weight: 475Kg
Horsepower: 300 BHP
Wheel base: 2.90m
Aerodynamic drag: Cd 0.24
Front track: 0.6m
Rear track: 1.7m
O/A length 4.65m
O/A width 2.00m
Height 1.03m
Brakes: Carbon discs and pads
Fuel cell capacity 40 litres
Chassis construction: lightweight composite
Front tire: 4.0/23.0 R15
Rear tire: 12.5/24.5 R15
Weight distribution: 27.5% Front (72.5% Rear)
Key Technical Features
* Engine and transmission are "non-stressed members" of the chassis structural design which allows teams to install a wide variety of lightweight powertrains
* The car features a liquid cooled 4 cylinder 1600cc intercooled turbocharged engine that will produce approximately 300 horsepower at 8,000 rpm and weigh 70kg
* Transmission is a 5 speed plus reverse longitudinal design with an electrical sequential paddle shift actuation. The differential features an efficient variable torque steer/differential speed-controlled planetary final drive reduction layout with the entire transmission weighing only 33kg
* Vehicle weight distribution is necessarily more rearward than traditionally seen with 72.5% of the mass on the larger rear tires
* 76% of the aerodynamic downforce acts on the rear of the car which has an lift to drag ratio of >5.0
* Rear wheel drive coupled with the rearward weight and aerodynamic distributions greatly enhances inline acceleration capability
* Unique amongst today's racing cars more than 50% of the vehicles braking force is generated behind the center of gravity giving a dynamically stable response
* Locking propensity of the un-laden front wheel at corner entry is greatly reduced due to virtually no front lateral load transfer with the narrow track & wide rear track layout, steered wheel "scrub drag" moment is virtually zero greatly increasing tire utilization and reducing mid turn understeer
* Advanced computer modeling of structures, impact energy management, aerodynamics, vehicle dynamics and tires has been used to develop the DeltaWing design
* Driver position, restraint layout and energy absorbing structures designed to meet the latest occupant survival criteria