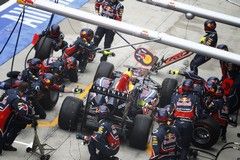 Plans for
F1 cars to run solely on electric motors in the pit lane
have hit the buffers - in the form of an objection from F1 boss Bernie Ecclestone.
Ecclestone reckons the absence of engine noise would be dangerous for those working in the pit lane.
"Formula One is absolutely not the right place to have electric engines," Ecclestone told the Daily Express. "It's like having ballet dancers with sneakers. More comfortable, but it doesn't work... There's no way that it will be electric in the pit lane. People could be killed because they won't hear the cars coming."
Thus, article 5.19 of the new technical regs, which states that 'the car must be run in electric mode (no ignition and no fuel supply to the engine) at all times when being driven in the pit lane' looks pretty much dead...
But as for what this will do to the planned doubling in power of the KERS system when the new 1.6-litre turbo V6s arrive in 2014, well, your guess is as good as ours...