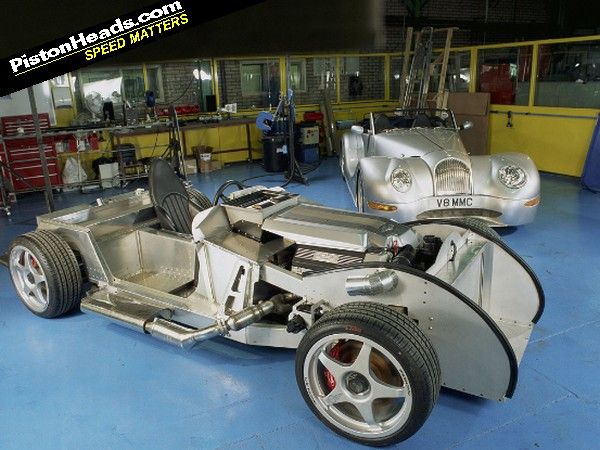 Morgan is showing an electric version of its new Plus 8 roadster at the Geneva motor show in March, Pistonheads has learned. If that sounds a bit me-too, then here's the unique part: it'll come with a manual gearbox.
The project is being run by the electric specialists at Zytek Automotive (saints to the firm's eco sinners at the motorsport division), so we rang them up to ask the question: why?
"The key aspect was to get the fun back into electric vehicles," said technical programme manager, Neil Cheeseman. "What does a manual gearbox in an electric car actually feel like? We decided to build one to find out."
There's nothing fancy about the Plus E's gearbox, which is a five-speeder supplied by Morgan. There's a clutch and gearshifter and the idea is that you drive it just like you would a standard petrol manual.

However reactions to a gear shift won't always match those of standard car. For example when overtaking, there's little to be gained dropping a cog because the power is limited when you're running closer to the top speed of 115mph (also limited), "You are not going to get any benefit from dropping down a gear at high speeds," said Cheeseman.
"The fun will come from low speed, because at low speed you are not power limited, so you have the ability to produce lots of wheel torque to the point where the rear wheels break traction," he told us.

So, essentially, you've created a drift-machine... "You could say that, yes," he admitted. With Morgan promising "near supercar levels" of acceleration, the potential for amusement is strong on this one.

The flywheel attached to the engine is lighter weight than in would be in a regular Morgan, but it being an electric engine, it can compensate for the rapid drop in engine speed that occurs when you take weight out of the flywheel. "The engine can match its speed with that of the gearbox, so gear changes are always smooth," Cheesman said. "You can't do an idiot shift, even if you tried."
Underneath the Plus E, it uses the same aluminium frame as the new Plus 8 (the one Chris Harris is running) which is essentially an update of the Aero chassis.
Two versions will be built initially, the first as a working concept, and the second to show off lighter, higher tech battery technology that will give a range of around 100 miles.
And will they be built? A spokesman said: "If there is enough public interest, it will go into production."