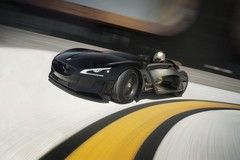 This is Peugeot's latest concept car. It's called the EX1 and, although it looks like a cross between a KTM X-Bow, a motorbike and a transformer, it's actually an all-electric roadster.
The EX1 has been designed to celebrate Peugeot's 200th anniversary (it started out making, of all things, coffee mills way back in 1810), and features four-wheel drive and two electric motors - one on each axle - to give a total of 335bhp.
Among the more curious aspects of its design are closely set rear wheels, which apparently give the car a 'water droplet' shape, and rear-hinged doors.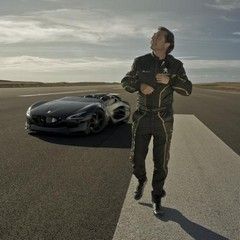 But the most curious thing about the EX1 is that it is a record breaker. The car hit the standing quarter mile in 14.4sec, a standing kilometre in 28.16sec and a standing mile in 41.09sec. It has also managed 0-62mph in 3.55sec and has topped out at 161mph. In total - and if approved by the FIA - the EX1 will gain six acceleration records.
That's not odd in itself, however - what's weird is that the runs were set by Nicolas Vanier, the French explorer and film-maker, most famous for the films The Last Trapper and Wolf.
Sadly the EX1 won't be at the Paris motor show. It will be on display in the city the night before the first press day, but will then be shipped to Shanghai to set yet more records.