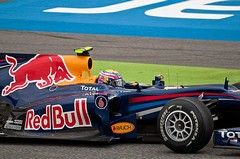 The F1 circus has barely reached Europe, but already the speculation is beginning as to who will be where for the 2011 season.
The latest rumour is that Mark Webber - who is on a rolling contract with Red Bull - could end up with Ferrari next year. Although no doubt Red Bull boss Christian Horner is going to be keen to keep hold of the driver currently leading the F1 world championship...
Red Bull's other driver, Sebastian Vettel, is also keen to make a move to the Prancing Horse - but not quite yet.
"I am very happy with Red Bull, I am not going anywhere else, but in the future, I don't know," Vettel told El Pais newspaper. "I want to fight for the world championship, and if you look at the past, Ferrari has always designed very competitive cars.
"Why not go there in a few years? Ferrari is unlike any other team, it's a legend. There are other brands that achieve great success, but Ferrari is special."
Bernie Ecclestone - known to be a big fan of Vettel - is also said to be keen to see the young German at Ferrari. And what Bernie says has a strange habit of coming true (except for "there will be a British GP at Donington")...