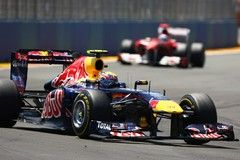 A plan to spec all F1 cars with 1.6-litre turbocharged V6s has been put forward by the FIA, and approved by team owners.
The new rules, which would come into effect from 2014, would effectively kill the FIA's previous proposal that F1 should run to a formula of 1.6-litre four-cylinder turbocharged engines from 2013.
There are a few caveats, however. It is understood that the teams will agree with the FIA's proposal to ditch the current 2.4-litre V8 formula, providing the planned changes to the chassis regulations are also delayed until 2014 to coincide with the engine changes, and that the rev limit for the new V6s is 15,000rpm rather than 12,000rpm (the current limit is 18,000rpm).
The FIA hopes to get the new regulations pushed through as soon as possible - ideally by the end of the month.