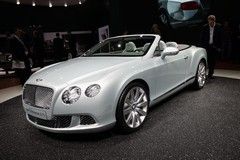 The revised Bentley Continental GTC has been revealed at the Frankfurt show, bringing it in line with the recently refreshed GT coupe sibling.
As well as bolder, crisper lines the new GTC gets a wider track, sharper steering, retuned suspension and a new 40:60 torque split for the 4x4 system which is said to minimise understeer in hard cornering.
The 6.0-litre twin-turbo W12 engine has also received a boost: from 560hp there's now 575hp - while torque has reached 516lb ft. The result? A 0-60mph time of 4.5secs, and a top speed of 195mph.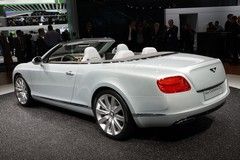 A new interior has been installed, featuring a sweeping dash and 'Cobra-style' seats, and there's a new touch-screen infotainment to play with.
Want one and it'll cost you for £149,350 for the privilege.
Oh, and should it take your fancy, you can put E85 bioethanol in the tanks. Providing you can find a filling station...