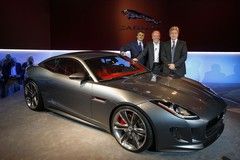 Ralph Speth (CEO), Callum & Hallmark
What's the same size as a 911(ish), can match an Aston Martin Vantage for performance, and costs the same as a spec'ed-up Porsche Cayman? Yep, it's the new Jaguar C-X16, on the prowl for the first time on the mean streets of Frankfurt.
Well OK, it's not actually been prowling the streets, but it's certainly been making a big noise in the town. Tonight Jaguar took over Frankfurt's newly renovated Thurn Palais for a media preview of a machine destined to take the fight to Germany's sports car specialists, and its introduction by chief designer Ian Callum was received with spontaneous applause from the assembled hacks.
While the firm won't officially confirm the C-X16 for production, everyone knows it's coming. And in fact, while concept cars traditionally lead us on flights on fancy, the C-X16 on show in Frankfurt is fully-engineered and fully regulation compliant in every single area apart from the internal structures of its seats. Even the hybrid tech with it's 'push to pass' button has been engineered for real life - so basically the whole plot is technically feasible in the condition we see it now.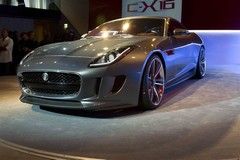 New Jaguar will undercut 911...
Speaking tonight, Jag's global brand boss Adrian Hallmark confirmed the car (if/when built..!) will be pitched at €60k-€80k depending on powertrain options, which should make it look very good value against the new 911 (Albeit without the benefit of the 2+2 option.)
While there's been no official statement on what those powertrain options would be, it's expected that the supercharged hybrid version will be the range-topper, and a normally aspirated six-cylinder version is likely to be the lead-in car.
So why won't they just go ahead and announce the car is a go-er today? It's all down to perception, says Adrian, who reckons the car buying public have still to get used to the idea of the 'small' Jaguar sportscar being a genuine 911 contender, and not a Boxster rival - which is the small Jag we've all been expecting/hoping for, over the last decade or so...
You can read all about the C-X16 in our earlier article here.