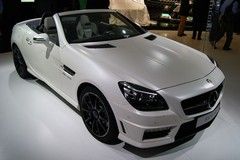 This isn't the first time Mercedes has squeezed a massive engine into the tiny SLK - the last generation received the same treatment. Attempt number two has resulted in, naturally, more power. The last generation's 360hp has turned into 422hp and the 0-62mph time has fallen three tenths to 4.6 seconds.
Despite having a more powerful motor the new SLK55 AMG is (comparatively) better for the environment than a BMW Z4 sDrive35i. The Merc emits 195g/km CO2, while the BMW squirts out 219g/km... Combined fuel economy is up to 33.6mpg (if you drive like an NEDC test driver), the BMW manages a 30.1. And it's slower.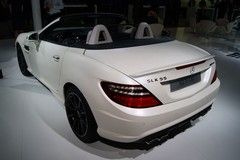 The engine is a de-turbo'd evolution of the same 5.5-litre V8 found in the E63 AMG, CLS63 AMG and others. It comes with a start/stop function for town driving, which is handy. The SLK55 AMG also benefits from a cylinder shut off system, which sees cylinder two, three, five and eight deactivated while the car is under partial load. It's technology Mercedes tried some years back on the CL coupe but is even more relevant now.
Who cares about partial load though. Give the SLK55 the beans and you'll be rewarded with a dose more noise as flaps in the exhaust open up to release more of that V8 goodness. Will this be the first truly PH-worthy SLK? Perhaps the fact AMG has fitted it with a traditional auto, albeit seven-speed, rather than the faster-shifting MCT transmission from the facelifted C63 doesn't bode especially well.