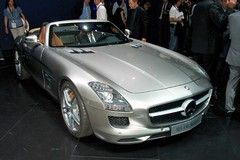 Taking the roof off a car whose chief characteristic is 'gullwing doors' may be a risky venture, however Mercedes has pulled it off with the SLS Roadster. Literally.
The only other major change made to the SLS is much improved headroom, when weather permits. The dry-sumped, handbuilt 6.3-litre V8 is carried over, pumping out the same 571hp and 479lb ft.
The roof is a lightweight fabric number, which can be raised or lowered at speeds up to 31mph in just eleven seconds - that's three seconds faster than the Ferrari 458 Spider also debuting here at Frankfurt. And about the only meaningful comparison we can make from the show floor.
Other notable new features include, for the first time on the SLS, the option of three-way Ride Control adjustable dampers, controlled by the familiar AMG Drive Unit. The Ride Control dampers will also be available as an extra on the SLS coupe but if you prefer a more hardcore vibe the gullwing still offers the option of an AMG Performance Suspension fixed-rate set-up with dampers 30 per cent firmer and springs 10 per cent stiffer than standard.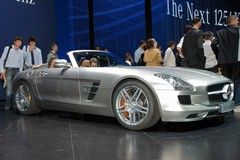 AMG Performance Media also debuts on the SLS Roadster. It's a motorsport inspired multimedia system that offers various telemetric displays (lateral and linear acceleration, lap times, etc) and high-speed web access. In all senses of the word, we imagine.
Here at PH we're of course proud to drive top down no matter how cold it is, so SLS Roadster customers might want to check the optional neck warming 'Airscarf' box too.