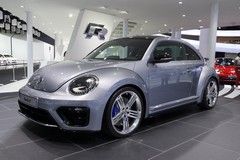 With this, the Volkswagen Beetle R Concept, the folks at Wolfsburg are clearly toying seriously with the idea of adding a third string to the 'R' performance sub-brand's bow.
And we must say that it does make the latest Beetle (which is already a little less girlie than the previous model anyway) like rather a beefy proposition.
This is still very much a design concept however; VW is not revealing any specifics of production plans. We do know that if a Beetle R does make production, however, that it will certainly have a little more poke than the current range-topping Beetle, the 197bhp 2.0 TSI.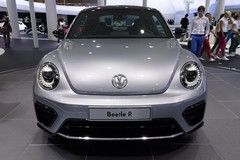 Whether it will have as much as the 266bhp Golf R or the 261bhp Scirocco R, is another matter again. Best guess so far is that it will have a little less than the Scirocco (around 240bhp) and that it will get front-wheel drive.
But back to the show car. Finished in Serious Grey (yes, really), it features wide wheel arches, front and rear bumpers widened by 30mm, a bumper that is mostly three air intakes (the middle air intake supplies the engine with oxygen, while the outer two contribute to cooling the brakes), and a rear bumper that gets both a diffuser and 'air exhaust vents'. There are also louvres on the bonnet and a chunky rear spoiler.
Inside, there is a Mappa leather 'sport seat system', including what VW refers to as 'Ergopads made of gray nubuck leather' (nope, we don't know either). Sounds lovely. Can we see a production model now please, VW?